How to prepare for MS/PhD programs interview in USA
Have you applied for admission into MS/PhD programs in the USA? Have you been invited to an interview with a Professor (potential advisor) or a panel of faculty?

- Your admission and scholarship search is on the line.

This morning, I will teach you how to prepare 🕒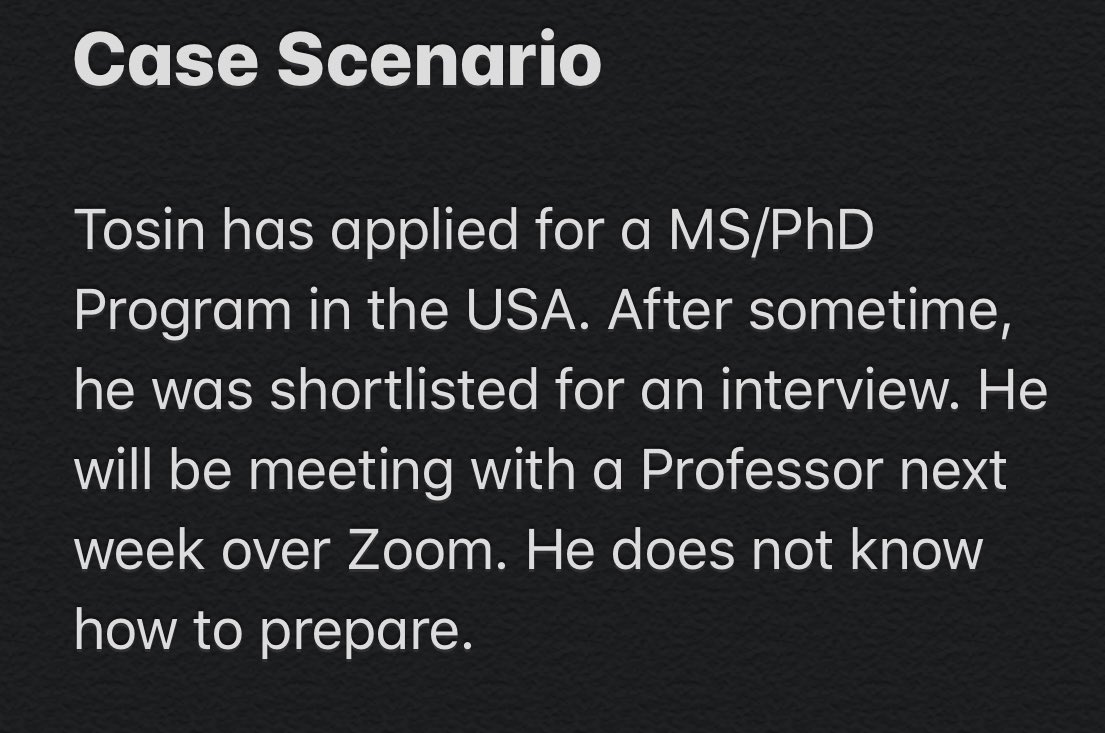 This is the "happy" stage a lot of prospective Graduate (MS/PhD) students get to. Although, some get admitted and funded without having to pass through interviews, interviews are fairly common in the process. I am going to prepare for the process. The good thing is that you have all you need.
Let me re-state:

The following must apply to you:

1. You have submitted your application for MS/PhD admission.

2. You have been contacted for an interview with either a Professor or a panel of faculty members.

3. You are currently preparing for the interview.

Good? 😀
First, you need to remember everything you wrote in your Statement of Purpose by "heart". You will certainly be asked to introduce yourself.

Bear in mind that the interviewer(s) already have all your details so they are basically trying to confirm if you are a right fit and ensure that your research interests are properly aligned with that of the department or proposed advisor. If they are considering you for a Teaching or/and Research Assistant, they want to gauge your readiness. This is a fairly normal process.

Here are some tips:
1. Gather Information About The Upcoming Interview
Ask the staff scheduling the interview who is expected to interview. It is a harmless question and as such, the committee or staff will be happy to tell you who and how many people you will be talking to. This will be helpful.
2. Read All Your Application Materials
At this point, they are trying to find out more about you based "on the information you have supplied". As such, you need to be ready for extensive questions on your technical background, professional experience, skills and future research.
---
Read also : List of generous PhD and Postdoctoral scholarships that Nigerians can apply for.
---
For example, if you are applying for a Civil Engineering, PhD admission (with a specialty in construction engineering and management), you need to be clear about what problems you are open to solving, and which exact area (general PM, safety, scheduling or materials/supply chain)
Also, you need to be able to properly articulate your reasons for pursuing an advanced degree at this time.

Your motivation and what excites you are very important things that interviewers look out for.

Just be clear and concise.
3. Read in-depth About The University
This will help in-between all the serious "technical stuff" and really shows that you can blend in. For example, if you are applying to schools like Alabama, Clemson or LSU, footballl can be an ice-breaker as things unfold.
4. Avoid Technical Issues
Since you will be speaking over the internet (most likely), make sure your gadgets can handle video conferencing (internet, laptop cameras, etc). Ask for a time period where you will be relaxed. Daytime is preferable (my opinion) but it doesn't matter.
5. Dress Properly and Ask Questions
I believe you understand what I mean when I say you should ensure that you dress properly. I suggest you shoot for Formal or semi-formal attires hence, just be professional.

Also, you need to ask questions. Although I believe that with your research interests, you should have certain areas for you require clarification as the i meter view progresses. Nonetheless, there are some questions you may consider asking.

- Student Financial Support
- Accomodation Facilities

See some here: Suggested Questions For Graduate School Interviews
---
Read also : 30 scholarships you can apply for in November.
---
Remember that "During the Interview", your goals is to convey your interest, motivation, and professionalism, and to gather the information you need to determine if this is the graduate program for you. - @WesternILUniv
Here is a list of commonly asked interview questions (complete with some tips) from the folks at @WesternILUniv. Access here: Graduate School Interviewing Tips
Here is a useful write-up on this topic: To ace your Ph.D. program interviews, prepare to answer—and ask—these key questions.
Goodluck in your interview.
---
Read also : Interview Preparation 101 : How to prepare for interview.
---