So I have shared more than once how Facebook is a goldmine and yesterday I was giving a follower here some advice about his business and after I was done, I was like, "hey, he could also do this". Then I decided to share "this" as a thread for everyone's benefit.

Let's dig in. 
I had asked this follower (i'll keep his name and his business private) why people patronize his kind of business. "Birthdays" was top of the list. Then I thought, many people don't know you can target people based on their birthdays using Facebook and Facebook already knows it. 
Think about it. If you sell wedding cakes, doesnt it make sense to target people who say they are "engaged". If you sell birthday cakes, doesn't it make sense to target birthdays. If you sell food, why not target people saying, "Its your birthday, enjoy it. Lets do the cooking" 
On Facebook, you can target people by their birthday month and sell them cakes, gift items, food, and anything else who's purchase is predicated on celebrating a birthday. You can literally 'set it and forget it' and have ads running 24/7 for 365 days, making you serious money. 
So, how do you use birthdays as a targeting option on Facebook?

I'll show you how.

The first is: Upcoming Birthday.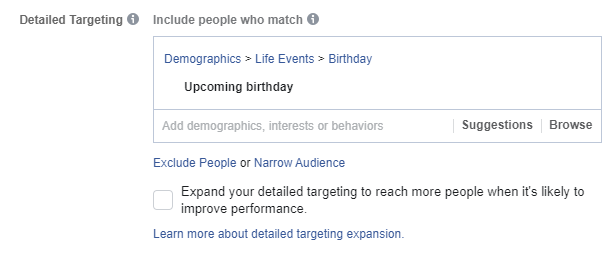 Thats not all. You can actually target people by their exact birthday month!

Say you sell cake. We're in November. You can target folks on Facebook who have birthdays in November, December etc. You can target them 1 month in advance and offer them a discount if they buy from you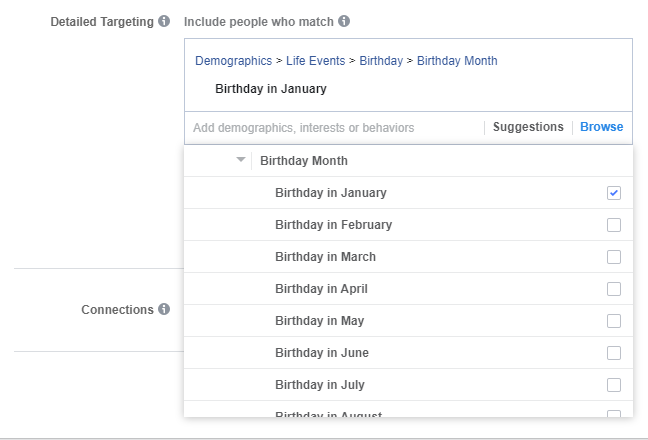 ---
Read also : How to run a successful Instagram advert using whatsapp business messenger.
---
But wait! There's more!

You can even target FRIENDS of people who have birthday coming up in as little as a few days or one month away, even down to their sex! You know people love to buy cakes for their friends, right? Right!

I mean look at this.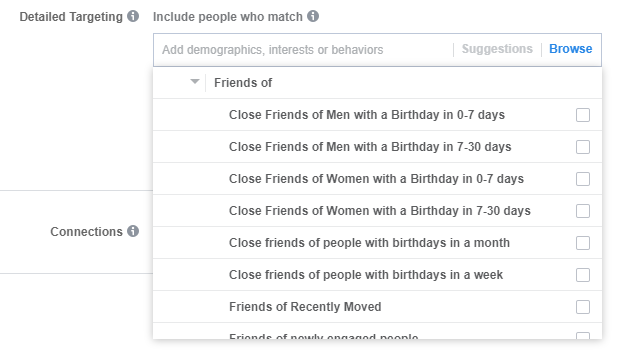 By the way this is not about selling cake. If you are in ecommerce and sell shoes, bags, dresses, perfumes, food, etc. You can use this.So say you're in ecommerce, here's what you can do.Offer them an item worth a certain amount =N=??? + FREE shipping, if they buy today. 
If you're selling to women, you can sell them a Mystery Bag worth a certain =N=. This works amazingly in any female niche.Combine several low-cost products with high perceived value. You can easily find a few products that will cost you =N=5000-7,000, and be sold for =N=20,000. You create an advert where they have to leave a comment, connect that ad to your messenger bot, ask a question easy to answer and follow up via chat.

But I'm not done yet, not by a long shot.That;'s why I have some more details coming your way.Want to learn more? Let's go! 
If you sell food, run your ad like this:

"Get a Birthday Discount on Your Birthday. We can cater for your friends and your office. Drinks are free for orders worth."

Of course, remember to factor in the cost of the drinks with your price.

I'm not done yet. Because if you... 
If you run a restaurant, do this instead.

Say:

"You eat for free (worth =N=6,500) if you come in with at least 3 friends. Plus drinks are half price for everyone.

Usually, no one will get there alone, and will, on average, bring at least 3 people. If they spend on average... 
---
Read also : 9 things you need to know before running a Facebook Ad.
---
=N=6,500 per person, and you get 3 people per week, that's an additional 9 people coming in to eat and spending =N=6,500 x 9 + the original 3 spending =N=3,250 each.

And this is a minimum.It can be a heck of a lot higher. If you sell food or run a restaurant, the trick on Facebook is to do "micro targeting" not exceeding a specific location.Here, I assume you're selling food or run a restaurant in the Festac area of Lagos State.

See how the location is set to "People who LIVE in this location".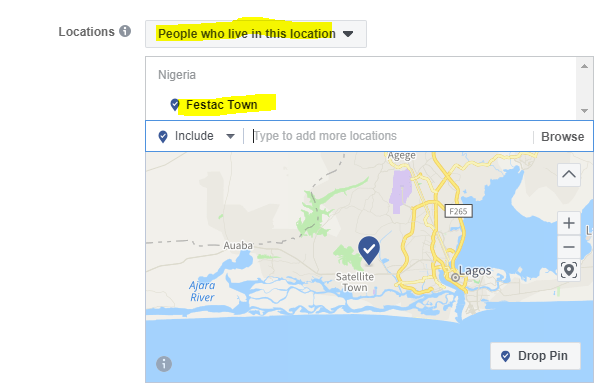 You can even find competing restaurants in the specific areas to target their visitors directly.

You pin your competitor's exact location and target those who've been there.

Facebook knows who was in that location recently. Thank you, Zuck, for tracking us around😀 
Lest I forget you can also target people who are celebrating an anniversary within 30 - 60 days.

Oh you didn't know that when y0ou posted your wedding pictures on Facebook that day you wedded that Zuck and his people now know you're married and on that day?

Now you know.

Ladies and Gentlemen, (pronoun people, make una no vex, I don't know how to add you people), I hope you've learnt something today.Now go and make money And remember to send my tithe when money starts coming.

God bless you. 
---
Read also : Using Facebook Pixels to reduce your Cost per Conversion with Retargeting Ads on Facebook .
---
Updated on 8:58-am May 29, 2023