How to immigrate permanently to Canada in 7 simple steps
1) Find out if you are eligible here  https://bit.ly/2MtOucY 
2) Write language test (IELTS, TEF or CELPIP) & pass well (CLB 9 & above advised)
3)Evaluate your Degree with any organization listed here  https://bit.ly/2BN5syV 
How to immigrate permanently to Canada in 7 simple steps (cont'd).
4) Once 2 & 3 above is completed, set up your Profile
5) If your point is high enough you will receive an invitation
6) Accept invitation & provide required docs
7) Application is processed & Immigrant visa issued
How much will it cost to immigrate to Canada as a permanent resident? This question is not very straightforward to answer because individual situation may necessitate more or less cost.

But I will try to provide a 'budget'. Retweet or Fav this tweet & check the thread in 2 days.
As of today, it will cost about N525,000 to process your Canadian permanent residence application YOURSELF as a SINGLE Nigerian applicant

You must also show proof of settlement fund
Estimate is based on certain conditions explained below and info is powered by @thinkcanadavisa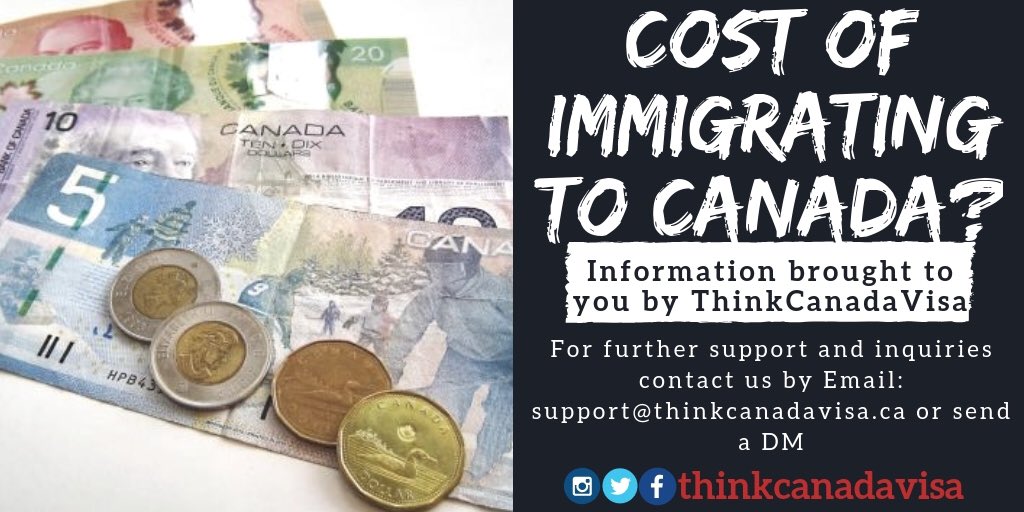 ---
Read also : Scholarships & Jobs in Canada.
---
It will cost you N525,000 (about $1,885 CAD) to immigrate permanently to Canada if
1) You're a SINGLE applicant
2) You have enough IELTS score in ONE attempt
3) You do your application yourself (no agent)
4) Fee for sending your transcript for Degree Assessment is not included
The Breakdown of the cost is:
1) IELTS: N75,000
2) Degree Assessment: N80,000 ($285 CAD). Remember this doesnt include the cost of sending a transcript
(if you are a family I advise that your spouse should write IELTS & do Degree Assessment for more points, and that's more cost).
3) Application fee - N290,000 ($1,040 CAD). This is the ONLY fee you will pay to the Canadian Government after receiving invitation to apply. The fee is for ONE applicant.

If you apply as a family you will pay an additional $1,040 for your spouse & $150 for each dependent child.
4) Biometric Fee - N25,000 ($85 CAD) In addition to the visa application fee, a biometric fee of $85 CAD per person will be paid. This fee is expected with the application fee

NB: If you apply as a family you will only pay $170 CAD for family biometric fee (that's about N50,000)
5) Medicals - N40,000. After receiving an invitation to apply, you must provide proof of a medical exam as part of your required documents. You will do a medical exam at any hospital listed here  https://bit.ly/2D4CYnU )

Again, note that If you apply as a family, it may cost more
---
Read also : 7 Easy Ways To Migrate To Canada.
---
6a) Police Report - N15,000. After receiving an invitation to apply, you must provide a police certificate as part of required documents. The only police report recognized for Nigerian applicants is the one issued by Force CID Alagbon, Lagos.

(Maybe you can negotiate this fee)
6b) If you have lived in any other country for 6 months or more in a row in the last 10 years, you will also be required to get a Police Report from the country. If you belong in this category, then add that to your estimate. You don't need Police Report for time spent in Canada.
7) Total estimate above shows about N525,000 ($1,885 CAD) to immigrate permanently to Canada as a SINGLE applicant

Remember the conditions stated & prepare your proof of settlement fund. Settlement fund depends on the number of family members too. Details  https://bit.ly/2Iw1GLU 
8) And of course, the estimate may come with some miscellaneous cost. Transportation, preparing/obtaining other required documents like international passport, rewriting IELTS exam if the score is low at first attempt, using an agent, etc.

But I hope this estimate is of help!
For further inquiries, professional support, clarification, or consultation, contact @ThinkCanadaVisa . They can pair you with a licensed immigration consultant or Immigration Lawyer in good standing in Canada (depending on which one you need. Thank you.
---
Read also : 5 sure ways to travel to Canada.
---
Updated on 1:29-am May 31, 2023