How to become a permanent resident in Canada as a skilled immigrant
Thinking of how to become a permanent resident in Canada (as a skilled immigrant)? This is for you.

The info covers

- What Express Entry (EE) is in Canada
- How to become Permanent Resident by EE
- Available EE sub-programs
- How to boost your EE CRS Scores
- Fees/costs
What Express Entry (EE) is in Canada?
In 2015, Canada started Express Entry to process permanent residence for SKILLED workers who want to settle in Canada permanently. As of Jan 8, 2019, 323,740 candidates have been invited to become permanent residents by Express Entry.
While there are over 60 immigration programs in Canada, Express Entry is the most popular for permanent residence applications. It is a system for foreign nationals to immigrate permanently to Canada under 3 sub-programs. It is point-based on certain skills/economic requirements.
The 3 Express Entry sub-programs are
- Federal Skilled Worker bit.ly/2Cvr2XZ
-Canadian Experience Class bit.ly/2T9P5XV
-Federal skilled Trades bit.ly/39Rkh49

Express Entry is a Federal program, meaning it is different from Provincial or other Programs.
If you click the links above you will notice the differences in each of the sub-programs.

Basically,

FSW: For skilled workers with FOREIGN work experience
CEC: For skilled workers with CANADIAN experience
FST: For skilled workers qualified in selected skilled TRADES

Note this 
I can hear someone asking how will I know which one to apply for? As stated, if you don't have CANADIAN work experience, or in the selected skilled TRADES, then your option is Federal Skilled Worker (FSW).

FSW is what many people OUTSIDE Canada apply for. Let's focus on that.
---
Read also : Canada's Provincial Nominee Programs as a skilled immigrant.
---
To check eligibility for Federal Skilled Worker program, six selection factors are used.

- Language skills (in English/French)
- Education
- Work Experience
- Age
- Arranged Employment
- Adaptability

If you score 67/100 here, you may qualify. Details at bit.ly/2Ndxe0N 
mentions To know your language skills/points you must write at least one of the language tests, IELTS/CELPIP General (English) or TEF/TCF (French). Details bit.ly/39Vf3o0. If your Degree is NOT from Canada you must evaluate it with any organization here bit.ly/2BN5syV .
Find a language exam available in your country. CELPIP, for instance, can only be written in Canada, USA, China, India, Philippines & UAE. TEF/TCF are French exams. Canada is a bilingual country & having knowledge of, and test scores for French & English will boost your point. 
Without your language test result and the completed Education Credential Assessment (ECA), you CANNOT set up your Express Entry profile

It doesn't matter which one you do first, but your ECA may take longer to complete & is valid for 5 years, Language tests are valid for 2 years.
Express Entry is point-based, the more you have the better (except for age). So, aim for as high as possible in your language test.

Your language test score is also converted to Canadian Language Benchmark (CLB), I recommend CLB 9 & above.

The sample of IELTS to CLB is below.

---
Read also : Scholarships & Jobs in Canada.
---
For the ECA, you may evaluate your highest degree alone (i.e if you have a Masters or PhD). You are only awarded points for the highest. However, if you have a BSc & say a Diploma, you may evaluate both for more points (it's called two or more certificates).

See the image below

The additional info about Education Credential Assessment (ECA) is for professional degrees.

If you have any of the professional degrees, you are awarded the same point as a Masters degree. Ensure your assessment is done with the right organization.

Details in the image below.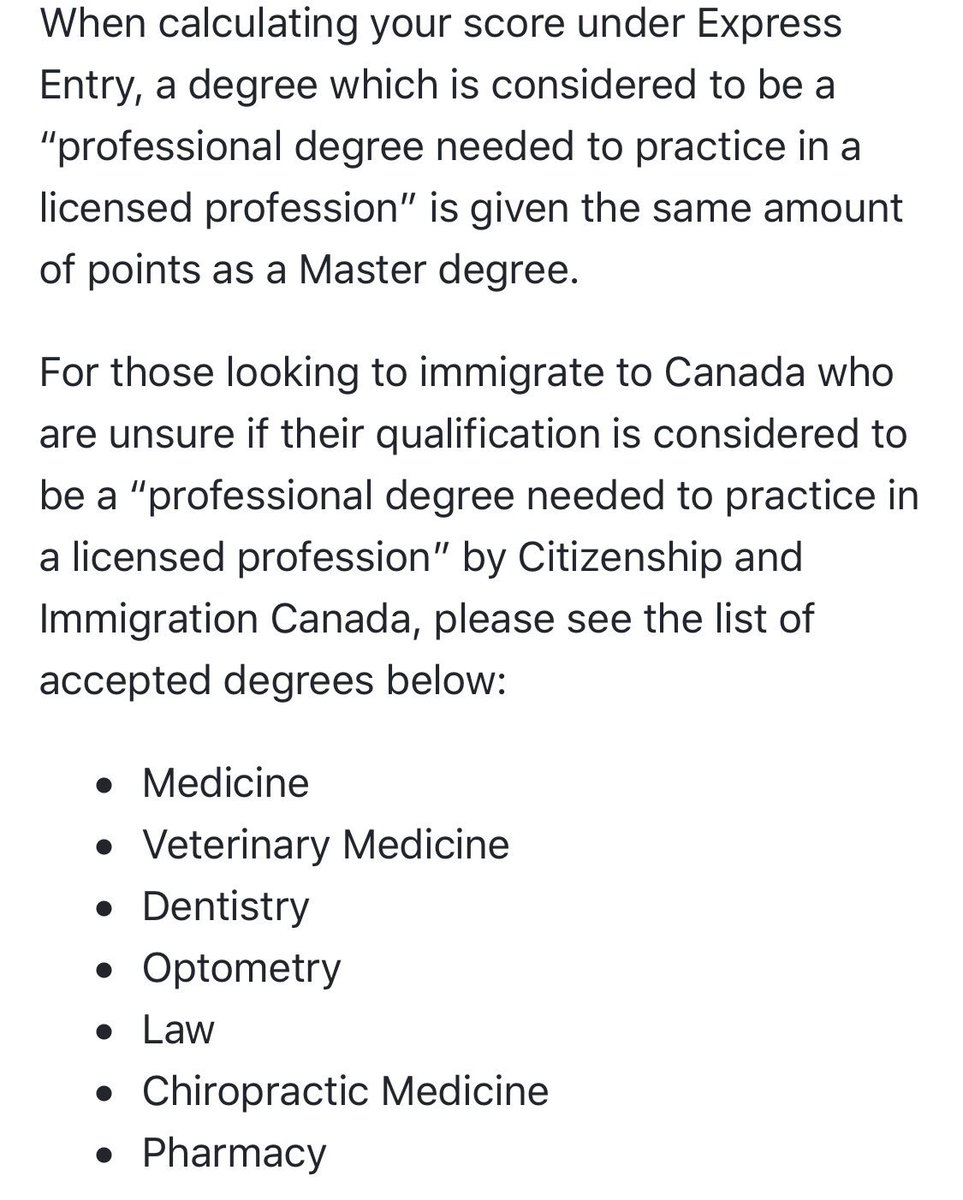 Your work experience must also be at least one year full-time (or equivalent in part-time). Must be skill type 0, A or B of the Canadian National Occupation Classification (NOC). If yours isn't, it means it's not a skilled job in Canada.

Find your NOC at bit.ly/2XzFuMz 
With your ECA, language result(s) & other info, calculate your Comprehensive Ranking System (CRS) Score at bit.ly/2tNPaWE.
Then set up your profile bit.ly/2EGIueb, If CRS score in the profile isn't what was calculated, there is an error somewhere. Find & fix it! 
---
Read also : 5 sure ways to travel to Canada.
---
As you already know, Express Entry is a point-based system. Your profile & CRS Score will be ranked with other candidates in the pool. A CRS cut-off will be decided when a draw is to be done, and those who meet the cut-off are invited to apply for permanent residence in Canada. 
Express Entry draws are mostly done bi-weekly, it is not a lottery, it is a selection of highest-ranking candidates

The cut-off is not static & can go up or down. The 1st draw in 2020 used 473 & invited 3,400 candidates

I stated some previous draws below
Canada Express Entry 1st draws of the year

2015: Jan 31 | CRS - 886 | Invitations- 779

2016: Jan 6 | CRS - 461 | Invitations- 1,463

2017: Jan 4 | CRS - 468 | Invitations- 2,902

2018: Jan 10 | CRS - 446 | Invitations- 2,750

2019: Jan 10 | CRS - 449 | Invitations- 3,900

2020?
CRS cut-off going up & down is where it gets tricky for many people. In 2017, CRS cut-off was as low as 413 & immigrating was easier. Things have changed! The "ideal" profile looks like the below. If you don't have it, don't fret, you can boost your score.
The Express Entry program is, however, very competitive now & with a very high cut-off point. So, you need a very good profile for it.

- Below 30 years old
- At least 3 years work experience
- Masters or Professional Degree (i.e Law)
- Good IELTS Score (CLB 9 & above)
---
Read also : 7 Easy Ways To Migrate To Canada.
---
There are many ways to boost your CRS score. Boosting your CRS score is, however, not a one size fits all.

Like the cost (which may differ per person), what candidates need to boost their CRS score may be different.

I will mention some general ways below. Find what suits you. 
Some of the ways to boost your Express Entry CRS scores are
- Provincial Nomination (gives up to 600 points)
- Language test to a higher CLB or second language test (i.e in French)
- Spouse's Degree assessment/language test (if married & not done)
- Eligible job offer in Canada- Additional Degree (Diploma/Masters if you only have a BSc)
- More work experience (if less than 3 years)
- Canadian Degree
- Canadian Work experience
- Sibling who is a Citizen/PR

You can also book a consultation with @OgayemiLawFirm to assess options. Link in Bio. 
Provincial nominations give the highest CRS boost (600 points)

There are 10 provinces & 3 territories in Canada, but the requirement for nomination is also different in each province.

Read about provincial nomination programs.
Let's assume you are now in the pool with good CRS score, a draw is done & you are invited. The next thing is to accept the invitation & provide required docs. You have 60 days to do this

NB: Your EE profile will expire if you do not qualify for, or get an invitation in one year 
it is when submitting required docs (after invitation) that fees are paid to the Govt of Canada.

Firstly, except you have an eligible job offer in Canada, you will also show proof of funds. Settlement funds is based on number of family members. Details at bit.ly/35xYHOE 
---
Read also : Canada Visa Application: 100% Working Guide.
---
The fees to pay:
- Application & Right of permanent residence fee $1,040 CAD (single applicant)

If you apply as a family you will pay an additional $1,040 CAD for your spouse & $150 CAD for each dependent child

- Biometric Fee $85 CAD (single applicant), or $170 CAD for family 
ther costs:

Medicals - You will do a medical exam at any hospital listed here bit.ly/2D4CYnU

Police Certificates - Required from every country, you (or a family member) stayed in during the last 10years (for 6 months or more in a row). Details bit.ly/2QCnAo6 
Once all required docs are submitted, the next thing is to wait for a response from Immigration Refugees and Citizenship Canada (IRCC). IRCC says the processing time for a complete application is 6 months (after this final submission)

Some applications may, however, exceed this! 
Ladies and gentlemen, the panel of judges, distinguished followers, accurate timekeepers, no co-debaters.. lool. I hope I have been able to provide useful information to you about how to immigrate permanently to Canada (as a skilled worker)

Cheers! 
NB: Just an extra info for Credential Assessment.

If done together, you will NOT pay extra fees for evaluating more than one degree by any of the organizations. Credential Assessment fees are flat rate. Extra cost could be the cost of sending your docs (i.e transcripts) to them.
---
Read also : Permanent residency in Canada through the Atlantic Immigration Pilot Program (AIPP).
---