Let me start with a definition:

Affiliate MARKETING is a business model where you (the affiliate) make money by bringing two parties together: The buyer and the seller,and you get a commission from each transaction.

Now, there are various affiliate MARKETING models too.

The most popular ones are:

• Cost per action

• Cost per lead

• Revenue share

• Cost per sale 
To make things simpler, we will be talking about the Cost Per Sale model where you get paid a commission per product sale.The product can be an app, an online course, a book or even a physical product like a wristwatch 
I usually promote digital products because the commission per sale is usually on the high side.
E.g. A seller (Mr Edo) wants to sell his excellent online course on "How to Publish a Book" priced at N70,000 
He could offer as much as 50% (N35,000) commission per sale to anyone who gets him sales.

So, you PROMOTE his online course to people who are interested in book publishing. Some of these people buy Mr. Edo's online course through your recommendations. And you get paid N35,000 per sale (The commissions could be as much as 75% depending on various product owners).

I hope that is simple enough. Right?

Now, you may have heard that affiliate MARKETING is an easy way to make money. That doesn't mean it is a free money rain avenue.If it were that easy, everyone should be doing it by now.

The beauty of affiliate MARKETING is:

- You don't need an office

- You don't need to hire staff for it

- You don't even need to register a business

- You don't have to talk to anybody 
---
Read also : 12 High-Income Skills You Can Learn During The Lockdown And Free Courses/ Materials to Help you Get started.
---
- And you don't need to do it as a full time thing

I hope you are following me? Great

The question now becomes: 
- How do you find product merchants (like Mr Edo) who are willing to pay a good percentage of their products to affiliates who SELL for them?

- How do you PROMOTE the products?

- How do you collect your payments?

That is what this thread is all about. 
But before we move on, my lawyer says I should always add a disclaimer.

So, here it is:

I am not guaranteeing you will get any specific kind of results with affiliate marketing.
I might make reference to some of my results or the ones my students are getting but I am not saying you will achieve the same. We are getting the kind of results we get due to a lot of hard work and commitment and maybe some luck. 
With that settled, let's move on:
 
---
Read also : How To Market Your Product or Service Online Even If You're Broke.
---
PART 1: Finding HOT products to sell as an affiliate
In order to get hot products to sell as an affiliate, you need to register with what is known as an affiliate network. An affiliate network is a platform that manages product owners and affiliates so that there is no "mago mago". So, different product owners can bring their products to the platform and affiliates can have access to them.
The affiliate network also handles payments too as well so that there is no story (which could happen if you had to deal with individual product owners)

Now, there are hundreds of affiliate networks online.

I don't know all of them. 
But here are some:

- Expertnaire.com (for Nigerians)
- Moreniche.com (Mainly health & sexual physical products)

- Jvzoo.com (Usually software & internet marketing products)

When you are registered on any of these platforms, you will be able to market any of their products.The easiest way to select hot products to sell is to simply send the affiliate manager an email.

All the affiliate networks usually have affiliate managers. E.g. To decide on products to sell on Expertnaire, simply email the Expertnaire affiliate manager at [email protected] 
---
Read also : 6 mistakes Instagram marketers make that can lead to shadow ban and how you can avoid them.
---
PART 2: How do you PROMOTE the products?
Left to me, this is the core of affiliate MARKETING. You can easily go and sign up to any of the affiliate platforms I listed above and even choose a product to promote within the next 30 minutes.

But you know what? That doesn't mean $. Majority of people who register on affiliate networks never make any money and that is because they do not know this part. They can't promote their products

If you look through this write-up, you will observe that I have 3 words in all caps each time they appear. 
The words are:

MARKETING

PROMOTE

SELL

I have them in all caps because this is the main deal that brings in the dough. From time to time, I get a whining message from someone - "I have joined XYZ affiliate program since 2 years ago and I am yet to make any money"

When I get such messages, it reminds me of myself. I signed up on Clickbank in 2005 and till 2007, my account balance read zero. It wasn't like I didn't do anything. I was doing what I thought to be PROMOTING but I was doing the wrong things

Then one day in 2008, I did one right thing and when I checked my account the next day, I had already made my first sale.

That week, I made $157

I still remember it 
I am telling you this story because - this business model is called affiliate MARKETING because "The amount of money you will make will be in direct proportion to how well you can SELL products" . Now, how to PROMOTE/SELL affiliate products isn't something I can explain thoroughly in an article

But it is kind of like this:

STEP 1: You find people who are interested in the product you are PROMOTING 
STEP 2: You create a sales process to advertise to them and convince them to buy what you are promoting.

Here is an example.

One of my students promoted an online course on how to get a high score with your IELTS exam. The commission for the product is N6000 per sale 
In order to promote it, he ran an advert on Facebook targeting people who are interested in IELTS, relocating to canada/uk/australia. These are the people who want to pass this test.
---
Read also : 9 Things I Wish I Knew Before I Became A Copywriter.
---
Next, he created a sales process consisting of an article, a signup page and 5 emails 
When an interested person sees his advert, they click through to read the article. The article ends by asking them to sign up for more training. When they sign up, he recommends the IELTS online course he is promoting to them. Some buy immediately, Majority don't.

Which is why he has 5 emails setup to automatically follow them up,After some days, more people buy. This was his first campaign and he ran it for a month

He spent about $200 (N72,000) on adverts and made 39 sales. 39 sales X N6000 = N234,000. Which means his net profit is N162,000

You might be thinking, how much money can one make as an affiliate? The answer is - That depends on how big your mindset is, how much you can SELL and how aggressive you are 
One of my students recently posted his affiliate earnings for the past 8 months. He made N6.6m in 8 months, that is about N825,000 a month which is not bad for someone who knew nothing about affiliate marketing a year ago.

My affiliate mentor A makes an average of $50,000 a day.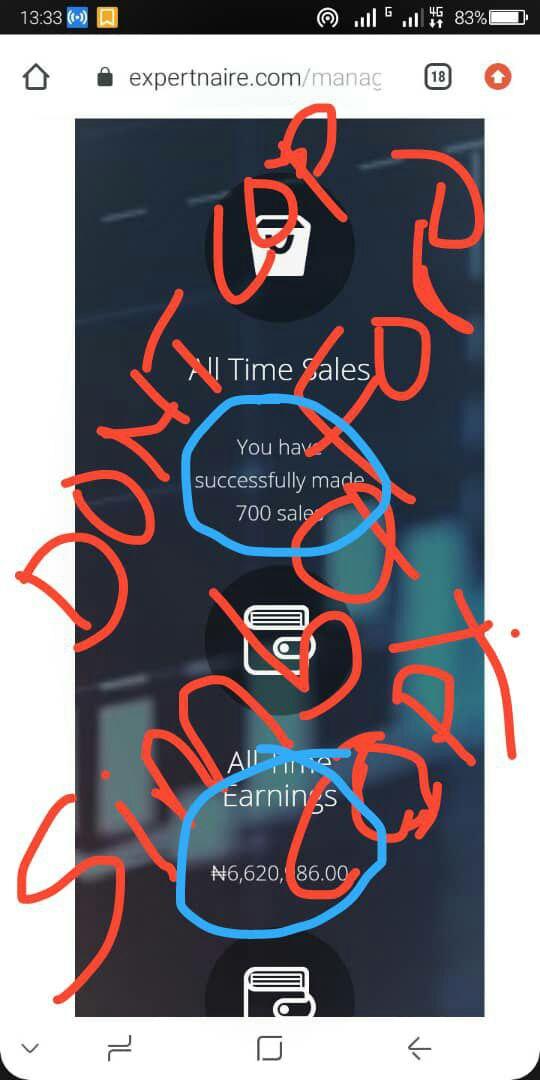 My second affiliate marketing mentor I just started working with made $2.9m last year. So, how much you can make depends on YOU. Now that you are making money, how do you collect your earnings?

-- 
---
Read also : How to create Converting Headlines - 7 Headline Writing Formulas.
---
STEP 3: This part is simple.

All the affiliate networks listed above all have their different processes for paying affiliates. E.g. Expertnaire pays affiliates directly to their bank accounts every Friday

Clickbank pays every 2 weeks via (cheque, bank wire, payoneer) Etc 
Now, someone might be saying "I want to join XYZ affiliate network and they only pay through Paypal which I can't use as a Nigerian, how do I go about it?"

MY RESPONSE: Find another affiliate network that doesn't use Paypal. It is not a must that you have to work with a network that only pays with Paypal

Anyway...

That is the whole gist.

I hope this helps.

PS: If you want to learn the system my students and I use for promoting affiliate products, then go and watch my FREE video training at 7starcourses.com/72hours-replay/ 
Updated on 6:39-am May 31, 2023