I'll be taking excerpts from a report I created early last year.

It's titled, well you guessed it: How To Open A Bank Account Abroad - Keep Your Hard Earned Money Away from the Greedy Hands of Government And Protect Yourself, Your Family and Your Wealth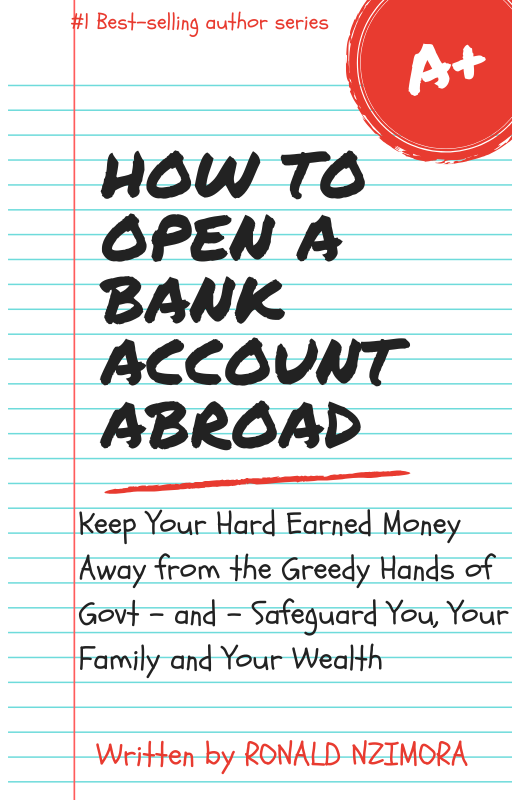 So the questions are:

1. Why should you keep your money away from the Government (and other criminal scum)

2. Is it illegal and against the law to have foreign bank accounts?

3. How can you do this, no matter how much you have?
I'll answer these questions continuing below 👇🏾 
So let's start with the first question, which is why should you keep your money away from the Government (and other criminal scum).

There are 11 reasons I have explained inside the report above. I'll point out the critical ones.

Reason #1: WAR

In 1967, a civil war broke out. In Nigeria. In 3 years, millions of Igbos were killed and when the war ended, a "no victor, no vanquished" resolution was declared by the then Military ruler, Gen. Yakubu Gowon.

But it was all a ruse. There were victors, and there was the vanquished. And the victors were evil. The Federal Government changed the currency and Igbos who survived the war had their bank accounts and property seized. It didn't matter how much you had in the bank, as long as you were Igbo, even if you had 1 BILLION POUNDS in the bank before the war, all you got was £20 pounds in the new note.

People went from wealthy, to war victims, then to paupers.Some didn't survive it.

Onward.

Reason #2: Currency Devaluation:
The current Corona virus pandemic has caused devastation in the world economy and everywhere stocks are down, and oil prices are down selling as low as $30, which is predicted could go as low as $20 a barrel.

As much as the Nigerian Government tries to continue foolishly propping up the naira, it will fall further in value. You DO NOT WANT TO HAVE EXCESS NAIRA in cash or in the bank when the Naira devalues. 
---
Read also : How to buy a marginal field in Nigeria.
---
3. Government Ineptitude
 Let's be honest. Does this Government look like they know what they're doing? The answer is no.

They just got their stooges in the Senate to approve a $22.7 Billion loan from China, and it is rumored that 40% of the money will be used to pay "consultants" who helped Nigeria secure the loan.

If this isn't the most ludicrous thing you have heard, I don't know what is.

Recently, the Government is taking about "borrowing" money from the pension fund to "fund projects".Do you think a Government that can't manage an economy, that cant diversity it despite all its noise making, that is borrowing money from China, do you really think they will pay back the "free money" called pension funds? No they wont.

They know they don't have to pay it back. They know nothing will happen if they take it. They have seen Governments in Argentina and similar, raid pension funds, not once but up to three times without paying back, so they know they will get away with it.
Even saving in DOM accounts is not safe, as they have access to it. I mean they are the government!
4. Asset Protection:
Maybe you think its just other people who live abroad where people file lawsuits for fun who are in the firing line and you live somewhere else. Think again.

While there is no such thing as 100% protection, a foreign bank account can help make you a less attractive target. An offshore bank account also protects you from overzealous government agencies armed with the summary power to freeze your assets.
 
---
Read also : 3 Bad trading psychology you should stay away from.
---
Okay, Second question is: is it illegal to own a foreign account? The simple answer is NO.

Forget terms such as "stash," or "hide". With a foreign bank account, you are not trying to HIDE or STASH away money. No. you are moving your money abroad for safety, AFTER you have paid taxes on the money. Please DO NOT try to avoid paying taxes, no. That's illegal.

If you earn money from abroad, having a foreign account is even more important because now, the money doesn't even have to touch here. You can just withdraw enough to live on and pay your tax 
So, using the services of banks outside of your home country is not illegal.

Recently Aliko Dangote announced the opening of a "home office" in the USA to "diversify" (really it means PROTECT) his family wealth. Wealthy people do it. They have done it for centuries. This practice is not just for the wealthy.

Recently, especially with the penetration of the internet, everyone with a brain, an internet connection and some money can literally do the same thing.

Some foreign banks will take as little as $300 of your money and start an account. Like banks everywhere, those overseas set their own account minimums and other terms for customers.

On the other hand, some foreign banks will not do business  with some foreign clients because of the required compliance. The Organization for Economic Cooperation and Development (OECD) and the World Trade Organization (WTO) have rules that require banks to report information on their foreign customers. 
Each country complies with these laws differently. Some countries don't comply at all.

So the final and most important question is: How do you do it?

There are several ways.

1. You can open a bank account. Some are expensive, some are cheap.

2. Use alternatives.

Lets expand 
Offshore banking is often associated with a high level of financial sophistication and, sometimes, chicanery. However, the reality is that the average person can open an offshore bank account with just a few hours of work. 
Each offshore bank and foreign jurisdiction has its own requirements, so you'll have to do some research to find the specifics relevant to your situation.

It's no secret that it is becoming harder and harder to open a foreign bank account. Soon it could be impossible.This is a strong incentive to act sooner rather than later - even if you dont plan to use the account immediately.

What I will do is list the countries and the bank names and you can contact them. Cool? So lets start with the countries in Europe you can open bank account with. 
---
Read also : Three investment "instruments" to avoid.
---
Banks in Europe Requiring less $10,000 or less as minimum opening balance, and doesn't need you to travel (means this can be done entirely online) or using authorized agents
1. Isle of Man - Standard Bank - £4,000 or $6,000 
Banks in Europe Requiring MORE THAN $10,000 as minimum opening balance, and doesn't need you to travel (means this can be done entirely online) or using authorized agents:
1. HSBC Expat (Saint Helier, Jersey, USA) – US$80,000

2. Raiffeisen Privatbank (Liechtenstein) – €250,000 
3. Barclays (UK/Isle of Man) - £25,000

Onward.
 
Banks OUTSIDE EUROPE Requiring $10,000 or less as minimum opening balance, and doesn't need you to travel (means this can be done entirely online) or using authorized agents:

1. Bank of Nevis (Saint Kitts and Nevis) – US$10,000 
2. MCB Bank (Mauritius) – amount isn't available

3. Others are:

Puerto Rico: $500 (yes FIVE HUNDRED) (sweet thing about having a bank account here is it's a US Protectorate which requires a US visa to visit, and you can apply for a US visa to go "talk to your bankers".) 
---
Read also : Things to consider before buying an Instagram account.
---
Belize - $1,000

Antigua - $5,000

St. Lucia - $5,000
 
Banks OUTSIDE EUROPE Requiring $10,000 or less as minimum opening balance BUT YOU NEED TO SHOW UP PERSONALLY
1. FAB Bank (UAE) - 10,000 dirhams (US$3,600)

Another option for the UAE is to open a Jebel Ali Free Zone ... 
Non-Resident Company in Dubai, UAE). This will cost you US$5,300. Don't try to do it yourself if you want to open an account in Dubai. Use authorized agents who already have relationships with the banks.

I share contacts inside the "How To Open A Bank Account Abroad" report mentioned earlier, plus even more banks, and countries, and choices, plus contact persons, etc.

If you "don't have money" (you actually do, stop pretending), what are the alternatives?

There are two options.

1. TransferWise Borderless Account

and

2. Cryptocurrency (Bitcoin) 
Cryptocurrency
Let's start with Crypto. If you're going to do cryptocurrency, I advise you understand it's risky. It could go to shit today, tomorrow, in 100 years or never, nobody is certain. I believe it will stay forever though. However, if you choose it, buy and store only bitcoin.
Why? 
---
Read also : CBN policy on bank charges.
---
Because even though there are hundreds of cryptocurrency available, Bitcoin's status as the first and most stable has made it the prime choice. It is known throughout the world, some Governments endorse it, many businesses accept it as a means of payment, and it's getting increasingly mainstream.

For Bitcoin, you first need to open a Bitcoin wallet.

How do you do that?
Step 1: Go to BlockChain Explorer Webwallet
A great alternative you can use is the Jaxx app
Step 2: Complete the Signup Process by providing your email address and choosing a password.

This is pretty straightforward.

Step 3: Backup Your Paraphrase.

Your passphrase if the most important thing. If you lose access to your account, you can recover it via the Passphrase. 
If you lose your Passphrase, you will never be able to recover your account.

It's set up this way for to protect the wallet,

Step 4: Link Mobile Number & Enable 2FA.

Next add your mobile number and enable 2-Factor Authentication (with this, you can stop hackers, because... 
---
Read also : How to run a successful Instagram advert using whatsapp business messenger.
---
Step 5: Block TOR (The Onion Router)-linked Addresses.

Hackers usually come in via TOR-linked addresses.

Step 6: Done!

For a pictorial step by step guide for implementing the six steps above.
I haven't told you how you'' buy bitcoin then. After you have set up your wallet, you can then to go sites like:

1. Luno (safer)

2. Nairaex
Check their fees, and choose the one selling lesser per dollar or naira and charging lesser fees when you transfer out.  When you have bought your bitcoin, say with Luno, you can then transfer it out to your Bitcoin wallet.

If you want to sell it back for Naira, you can transfer it back in and sell it there.
TransferWise 
Okay, now TransferWise.
Headquartered in London, TransferWise is become a prominent player in a cross-border money transfer market. In 2017, the company decided to move beyond merely sending money from one country to another and started offering TransferWise Borderless – an account similar to traditional banking.

It offers 28 different currencies (USD, EUR, CAD and many more) and no hidden fees.There are almost no fees at all, except when you convert one currency to another or withdraw the money to a traditional bank account. Borderless accounts take just a few minutes to open and you can do it entirely online.

But the main benefit of a TransferWise Borderless account over a traditional one is the absence of international transaction fees or outrageous exchange rates. It makes it very convenient for digital nomads, business people dealing with multiple currencies, or anyone exchanging currencies often.

The account currently comes with four different bank details – for euros, US dollars, UK pounds and Australian dollars. This means that if you use Borderless account for business purposes, your clients based in the US, UK, Australia and the EU can make payments to you locally.

Register on TransferWise and just follow the onscreen instructions.

Okay if you want to learn more.Here's what to do, get the "How to Open A Bank Account" report. Its filled with detailed explanations, associated fees, banks names, etc. Everything you need to keep your money VERY SAFE is inside.
---
Read also : How to create multiple virtual dollar Cards.
---
Updated on 12:52-am June 6, 2023