Hashtags are Instagram's signpost and a  powerful tool.The right set of hashtags increases your reach on instagram and an increased reach means more exposure for your business and more followers.

In this thread, I will show you: Types of hashtags and How to research hashtags 
Let's get started!


Hashtags are words or phrases preceded by a # sign to identify messages on specific topics. Hashtags put your content where it will be seen by those interested in your offer, they also increase your reach and engagement. This is why you need to spend time researching hashtags populated by your target audience. 
 
Types of hashtags
There are different types of hashtags you should consider when researching hashtags. 
Industry Hashtags
The first on the list is Industry Hashtags. These types of hashtags are highly competitive and have high post density of 1M and above. Industry hashtags are hashtags like #Hair #Skincare #Fashion #Beauty #Food etc.
Niche hashtags
Niche hashtags are less competitive when compared to Industry hashtags.They show what you do in your industry. For instance, if you sell hair accessories in the hair industry, your niche hashtag will be #hairaccessories. 
---
Read also : 10 Crazy Tricks that will help you with SEO for Instagram marketing and business.
---
Community hashtags
Community hashtags are hashtags like : 9jafoodie,Triciabiz,Nbctribe ,Naijabrandchick ,Hustlersquare ,Lagosmums ,Newmumshub etc. Some community hashtags are also niche hashtags, for instance, hashtags like 9jafoodie are community hashtags and also niche hashtags. Once you see #9jafoodie, what comes to mind is food!
Branded hashtags
Branded hashtags are hashtags that are unique to your business, it could be your business name like #VanksVirtualSolutions or your tagline.
Campaign hashtags
Campaign hashtags are short term and are used for product launch or giveaways. 
Location hashtags
Location hashtags also hashtags like #ikeja #lagosisland #Abuja #Abujafct. Assuming the hair accessory vendor in our earlier example is in Lagos State, she can use hashtags like #hairinlagos #Lagoshair #hairvendorinlagos because those interested in these hashtags will be interested in hair accessories.
 
Researching hashtags
The key to researching hashtags is to know your target audience. 

Once you know your target audience, you will know where to find them and the hashtags they will be interested in. 
---
Read also : 31 Tips on how to correctly run a successful Instagram advert.
---
Let's say I have a restaurant in abuja and i am looking for hashtags that will attract my target audience, I will be looking at hashtags like #abujaeats #foodinabuja #abujafoodie etc

Your photo, graphic or video determines how well your post will perform. Instagram is a visual platform and you need to have clear, high quality images in addition to the right hashtags for an increased reach.

Assuming I am researching hashtags for this image, I will be looking for hashtags related to beauty, fashion, accessories, hair extensions etc. When searching for hashtags on Instagram, pay attention to  the post density on the hashtags. Do not pick hashtags that will swallow your post i.e hashtags with high post density. 

You  need hashtags with low post density so that your post can rank on those hashtags. Hashtags with 500k+ posts are considered high density. They are difficult to rank on i.e it swallows your post and people won't get to see it.

There are lots of competitors on hashtags with high post density for instance #hustlersquare.This hashtag is active but has lots of competitors.

As at this afternoon, #hustlersquare has 5.3M posts while #abujahomes has 26.1K posts.
---
Read also : 6 mistakes Instagram marketers make that can lead to shadow ban and how you can avoid them.
---
---
Read also : How to increase your reach,engagement and visibility on Instagram.
---
---
Read also : 4 Top Tips for using Instagram Hashtag .
---
Assuming you are in the abuja real estate industry, you should be looking at hashtags like #abujahomes with low post density because it is easier to get to the top of this hashtag.

Another thing to consider when researching hashtags is the recency of the posts on each hashtag you intend to use. Check when the top posts on each hashtag were made. The top posts are the first 9 posts on the top post section of a hashtag.

If I want to use #abujahomes in my post, what i would do is check the recency of the top 9 posts. 
In the image below, the top 3 posts for this hashtag were made in August 2019, September 2019 and December 2018 while the others were made in November 2019, September 2019 and January, 2020 

This hashtag is dormant.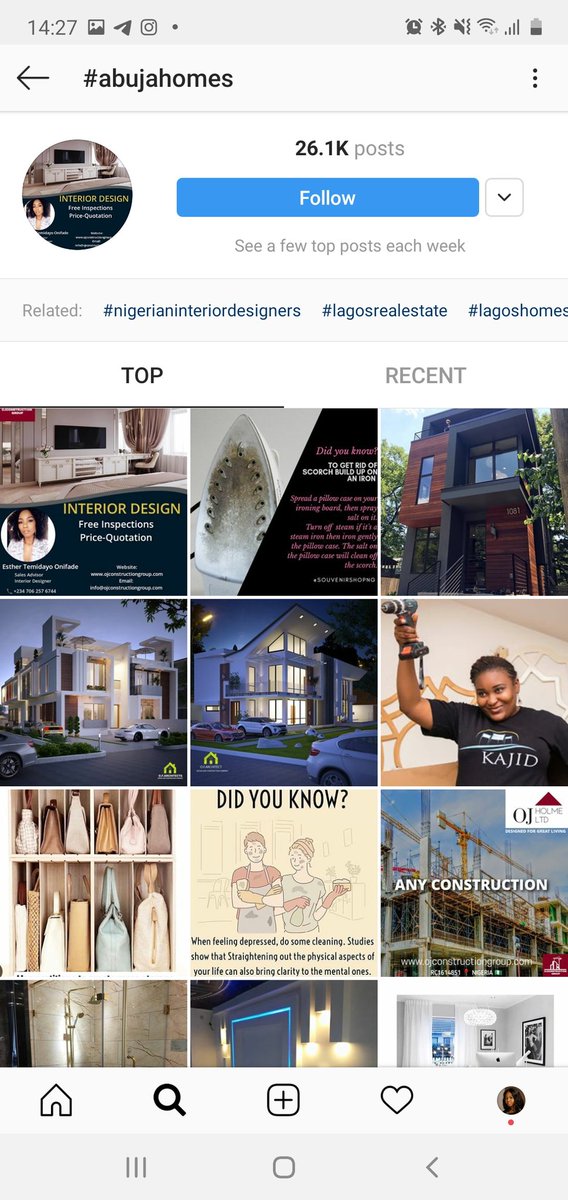 Dormant hashtags are populated by posts made 3 months ago, 4 months ago, 6 months ago, last  year etc. You should be looking at hashtags that are active whose top posts were as recent as 15 minutes ago, 3 hours ago, 2 days ago 5 days ago, you get the drift. 
---
Read also : How to run a successful Instagram advert using whatsapp business messenger.
---
When you search for a hashtag, Instagram shows you more hashtags related to that hashtag you have searched for.

In the image below I searched for #abujaeats, peep the hashtags related to  #abujaeats. The related bar gives you more hashtags you can use.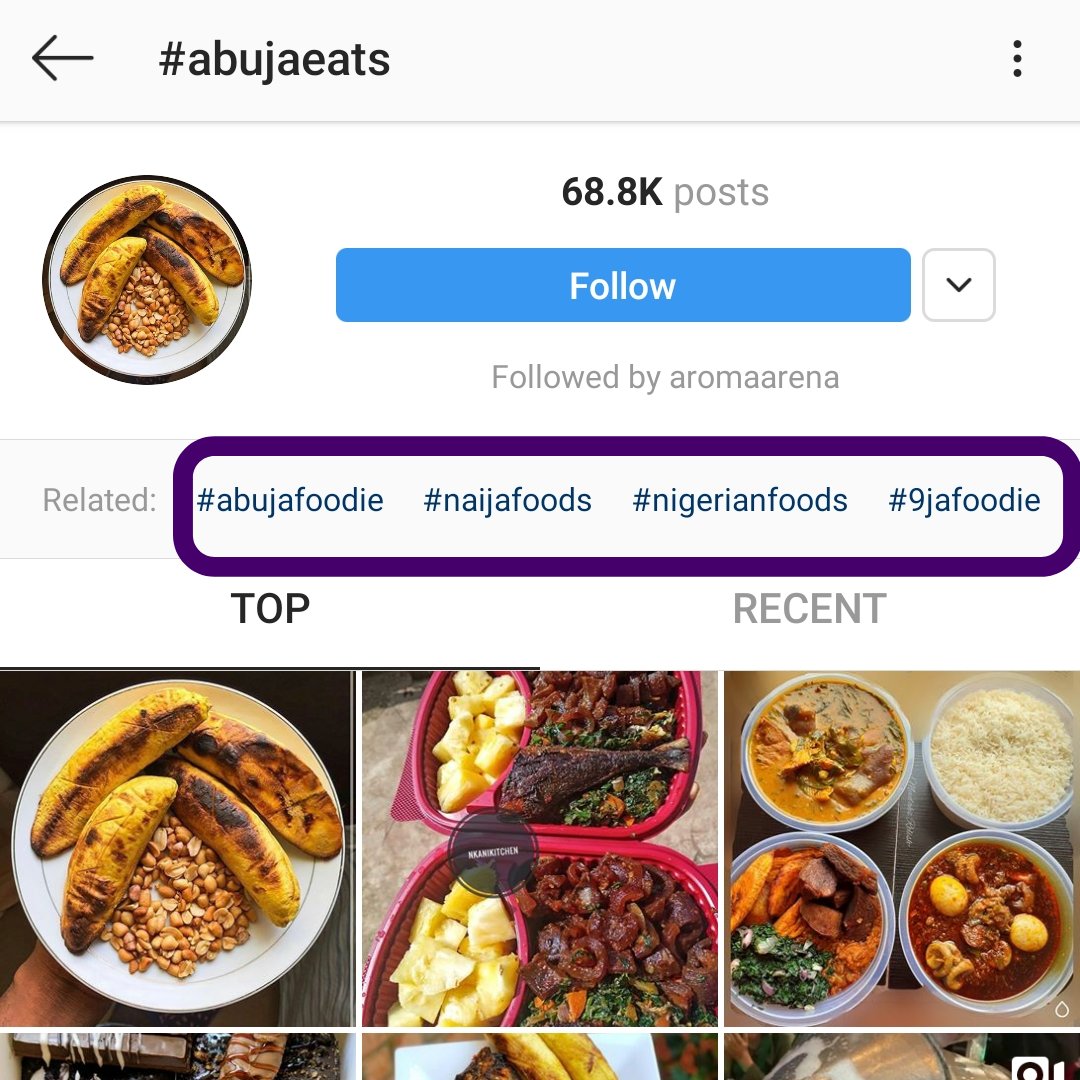 Instagram gives you an option of 30 hashatgs. 

I've heard some people say don't use all 30 hashtags but I think you should use all 30 hashtags, I mean, if Instagram didn't want you to use all 30 hashtags, why give you that option? 
If your engagement rate is low, pick hashtags you can dominate and compete on. If your engagement rate is low, your hashtag sets should look like this

10 hashtags with 5k to 20k post density

10 hashtags with 20k to 50k post density

10 hashtags with 50k to 100k posts density 
You need more than 1 set so you can alternate them i.e use 1 set in the morning and use another in the evening. Aside from content ideas, you can find relevant hashtags on your competitors page, your audience's page, industry leaders and related hashtag option. 
There are apps that help you find hashtags related to what you are searching for. Apps like tagomatic and In tags by prilaga. Check the hashtags generated by these apps on Instagram to know whether or not they are active. You can also hide hashtags to your instagram story.

Check my Instagram Story to see how to do this. Handle is @vanksvirtualsolutions 
---
Read also : 4 Reasons why your hashtags are not working on Instagram.
---
Thanks for reading!
Updated on 9:46-am May 31, 2023