This is an article for every individual or business owner who wishes to explore Instagram as a platform to find more customers and MAKE MORE MONEY.
The article will expose you to everything about Instagram Advertising from its latform after this thread. You will be able run an advert and to a large extent do it successfully. Beyond this, I will be sharing close to 30 Priceless tips Knowledge I gained from spending a lot of time and A LOT OF MONEY on Instagram marketing. Please follow me, using the pictures too.
Let's begin.
There are two places from which you can run Instagram advertisement.

Option 1: Directly From Instagram
Option 2: From The Facebook Ads Manager

In this thread we will be dealing in detail with the first, so let's change the topic a little bit.

"𝗛𝗼𝘄 𝘁𝗼 '𝗰𝗼𝗿𝗿𝗲𝗰𝘁𝗹𝘆' 𝗿𝘂𝗻 𝗮 𝘀𝘂𝗰𝗰𝗲𝘀𝘀𝗳𝘂𝗹 𝗜𝗻𝘀𝘁𝗮𝗴𝗿𝗮𝗺 𝗮𝗱𝘃𝗲𝗿𝘁 𝗱𝗶𝗿𝗲𝗰𝘁𝗹𝘆 𝗳𝗿𝗼𝗺 𝗜𝗻𝘀𝘁𝗮𝗴𝗿𝗮𝗺.'

But I am sure some of you are about to ask which one is better? or are they both beneficial? Don't worry. I will reveal which from my experience, is better. I will also explain the crucial importance of both.
There are a few things you must do before you run any Instagram advert.

Here they are

1. You must have an Instagram Account.

2. Your Instagram Account has to be converted to a professional or business page.

3. Your Instagram Account must be linked to a Facebook Page... 
4. Your Facebook page must be linked to a Facebook business account ( actually a particular ad account )

5. Your ad account must have a valid payment option. (Use a dollar card… I use the ones provided by @getbarter … it's seamless.)

Finally,t here has to be a post on your Instagram page before you can run your Instagram advert. Once you have all these settled… then you would be allowed to run an advert on Instagram. Now to correctly running the ads.
---
Read also : How to run a successful Instagram advert using whatsapp business messenger.
---
STEP 1. [ Please always view the images ]

Click the post you wish to run as an advert, and below the post you will find a button that says promote. CLICK THE PROMOTE BUTTON.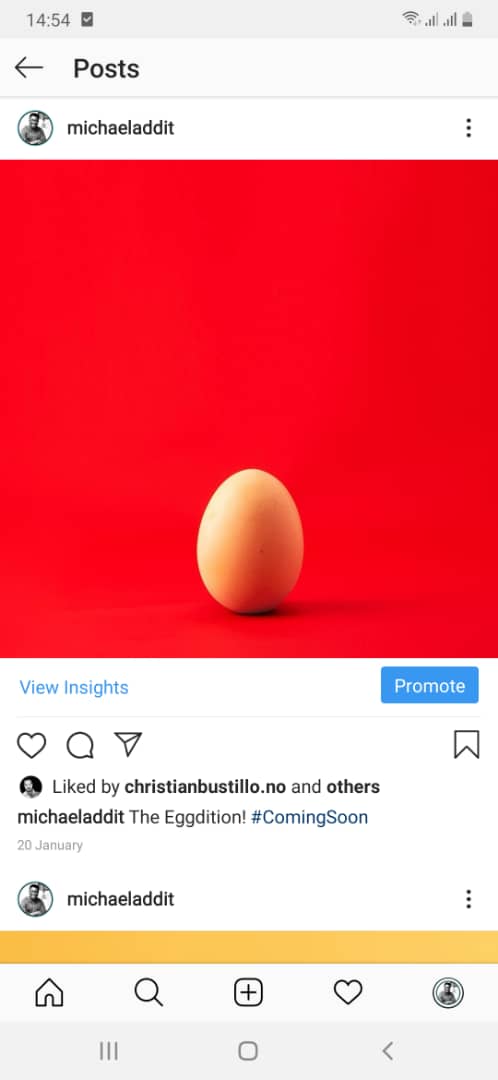 TIP 1: Sometimes Instagram disables the promote button under some posts because the algorithm has noticed that your picture has low quality too much text or goes against their policies ( sensitive content.)

TIP 2: Before you run an advert ensure that it contains a properly taken picture of your product or graphic expression of your service.

TIP 3: From my experience, product photos are usually better than modelled shots. Modelled shots get A LOT OF LIKES, few profile visits and fewer conversions.

TIP 4: The fact that your promotions get you a lot of views or likes should never be enough to make you smile, only smile after you get a significant amount of conversions, then rejoice when you receive a credit alert only. You have to realise that. There are some people on Instagram who have a default setting of liking whatever they see on their homepage without actually visiting the page. So don't fall victim to those people.
 
𝗦𝗧𝗘𝗣 𝟮: SELECT WHERE YOU WANT TO SEND. 
You have 3 options as you have rightly seen.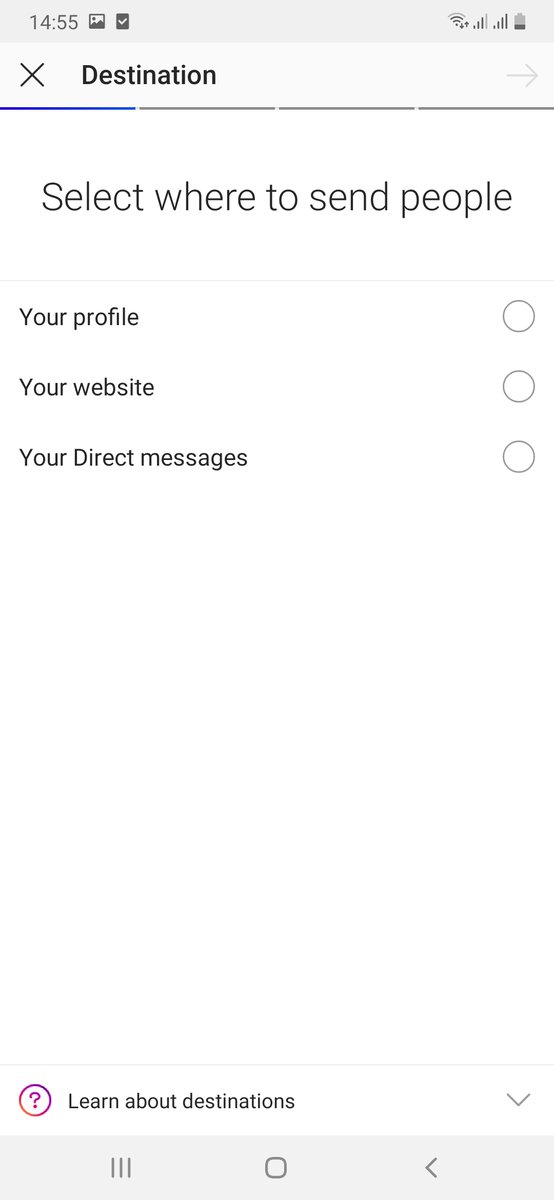 Option 1, your profile. This means that when you run the ad, people that click the advert will come directly to your profile.
TIP 5: Use this option only when you are doing brand awareness alone. When you are more interested in people seeing your identity as a business or as a professional.
---
Read also : 10 Crazy Tricks that will help you with SEO for Instagram marketing and business.
---
TIP 6: It's usually a bloody waste of money to be honest because from my experience people who click adverts are usually interested in seeing the source, so they would normally click the profile.

Option 2 : your website.

This destination allows for people who click on your advert to visit your website or any working URL (link). So yes you can use your Whatsapp business link, you can as well use a link to a form or any link in general.

TIP 7: If you are like me and you sometimes like to interact with your customers via messaging input your Whatsapp link here.

TIP 8: If you want to do both, to enable faster conversion. then you can create a basic landing page using elementor include the best pictures of your products and then direct them to your Whatsapp messenger for final conversion.

TIP 9: If you do not like to interact with customers, and you simply prefer a page that automates both their inquiries and conversions.Then build a simple sales page and make sure it includes the following:
1. The BEST pictures of your products.

2. The advantages of your products and features.

3. Quality assurance and refund policy

4. Frequently asked questions

5. Customer reviews and ratings

And as much more as you can get to convince them. Research lead ages, sales pages. product pages and sales funnels. There is so much available on google an Youtube. Go and use those platforms they help!

TIP 10. You can also link a form if you do not want to talk too much with your customers.

When you link the form. Collect their names, phone number and delivery address. Then on the form simply input your payment details there.

Option 3, your direct messages…

Using this option will lead your advert viewers to your instagram messenger. 
TIP 11: 𝗡𝗘𝗩𝗘𝗥 𝗨𝗦𝗘 𝗜𝗡𝗦𝗧𝗔𝗚𝗥𝗔𝗠 𝗗𝗜𝗥𝗘𝗖𝗧 𝗠𝗘𝗦𝗦𝗔𝗚𝗘𝗦!

Why? Because it is difficult to collect data or organise your customers whereas Whatsapp business does this seamlessly.

Now to step 3... 
STEP 3. ADD URL ACTION BUTTON.
Basically… they just need you to issue the command relatively to whatever you are offering to the customer.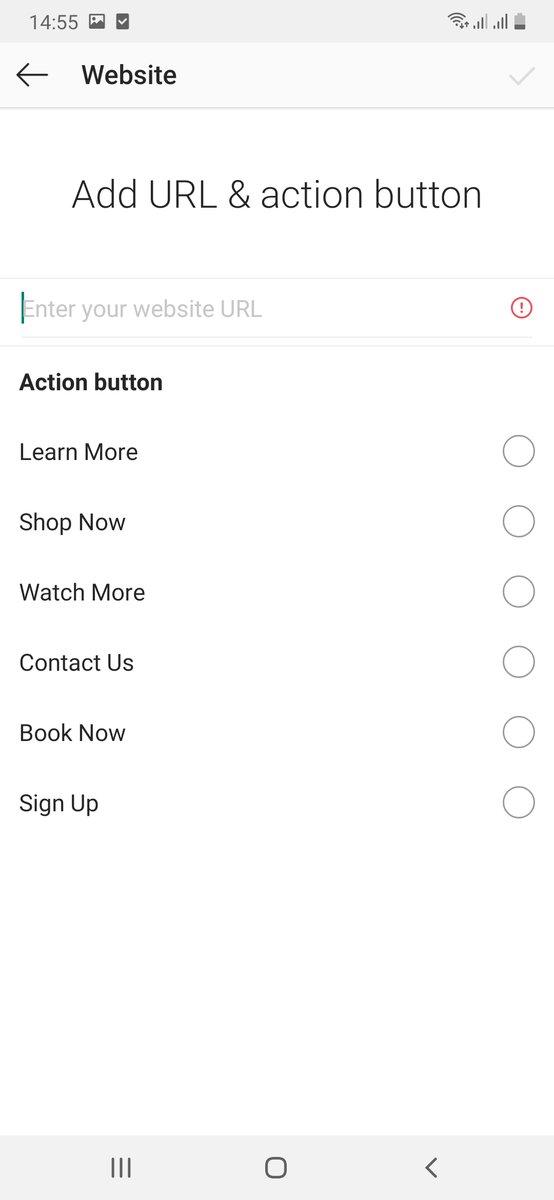 ---
Read also : 6 mistakes Instagram marketers make that can lead to shadow ban and how you can avoid them.
---
This is what the audience will see below your advert creative when they interact with advert.

TIP 12: It's self explanatory, but if you are advertising a product, then use a shop now if it's a service, then use Sign up or contact us. Its clear let's move on.
STEP 5. REVIEW THE DESTINATION.
In my selection here, I have decided to do a message conversion. I want to talk to them via Whatsapp business. So I have taken the link from Whatsapp and attached it as a URL for the "Your Website" option.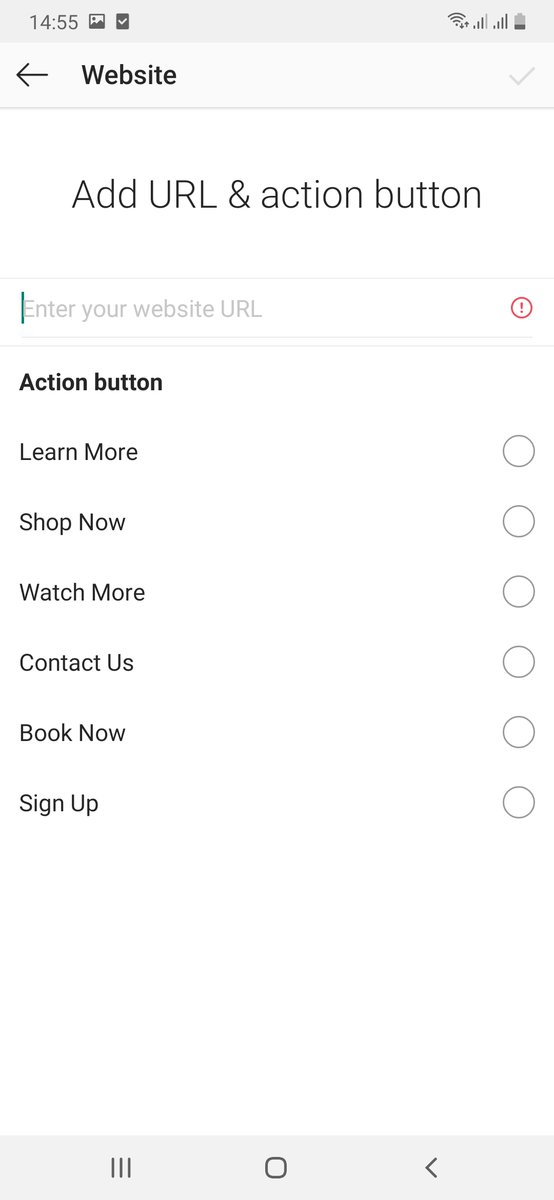 I have also selected the shop now option. Please look through.

TIP 13: Always do reviews, sometimes the network may be slow, servers may be poor and so the platform may reset your settings to default.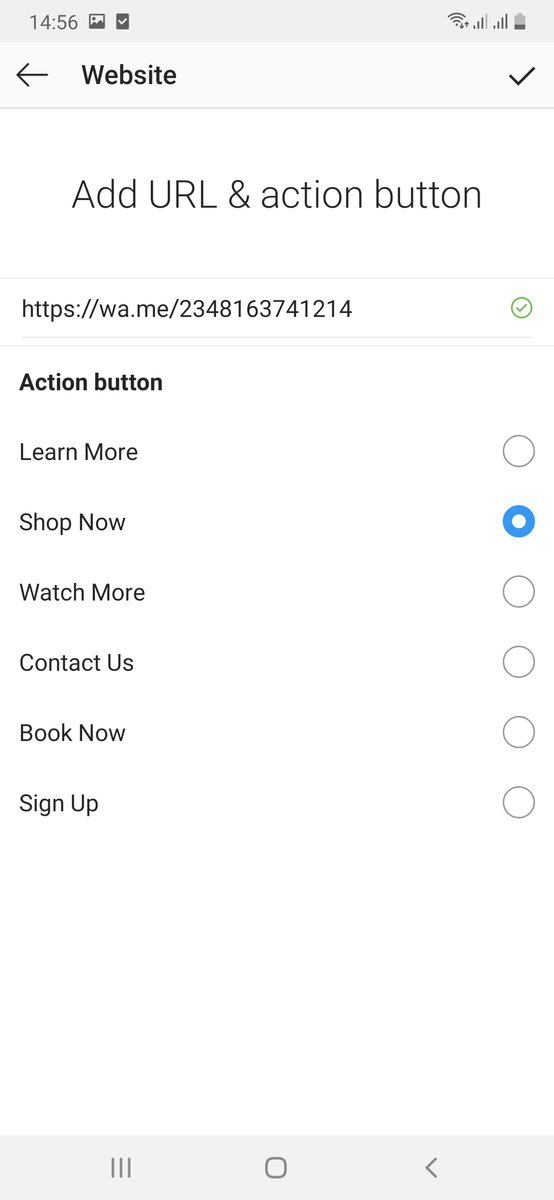 ---
Read also : How to increase your reach,engagement and visibility on Instagram.
---
It has happened before and my campaign was lost. I only got followers and likes for a day without conversions until I figured the problem and re-did the ad. Again,I will state it here very briefly;

TIP 14: The number of followers or likes you have does not equal to conversion. You can have up to 10K followers,1000 Likes, and you won't make a single sale. Why? Because most times, You are serving the wrong audience, or your marketing destination for conversion is flawed...

Moving on to step 6... 
STEP 6. SELECT YOUR TARGET AUDIENCE
Please ignore Dyslexia Event and  #IVOTEMYSELF. Those are campaigns I ran for some of my clients. So in this section, You have two options automatic targeting done by Instagram Or Create your own audience manually.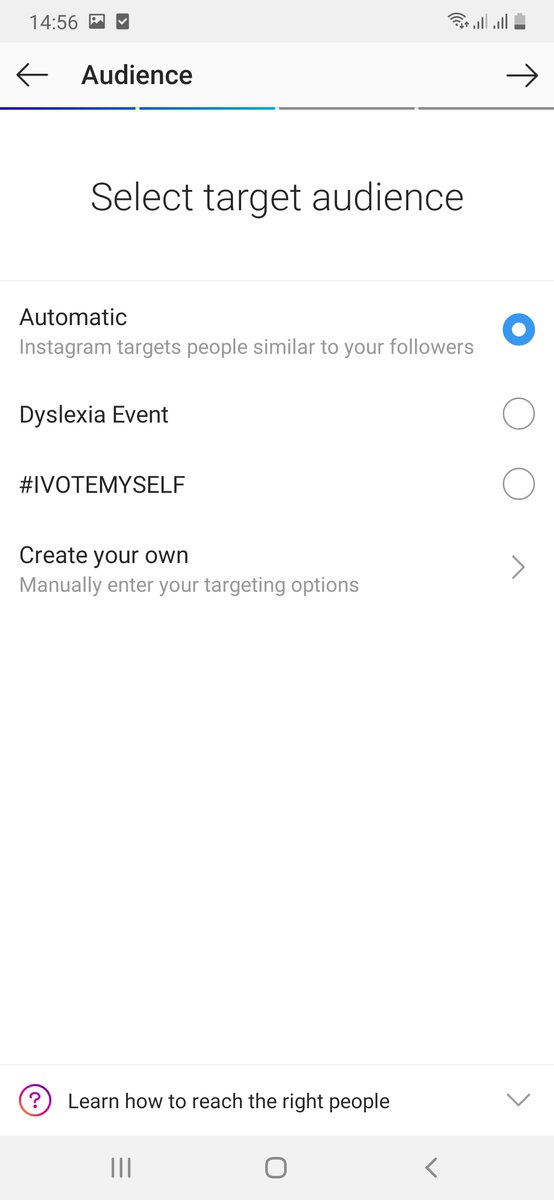 TIP 15. CRUCIAL! Please please and please 𝗡𝗘𝗩𝗘𝗥 𝗙𝗢𝗟𝗟𝗢𝗪 𝗜𝗡𝗦𝗧𝗔𝗚𝗥𝗔𝗠'𝗦 𝗥𝗘𝗖𝗢𝗠𝗠𝗘𝗡𝗗𝗔𝗧𝗜𝗢𝗡!

Here is why, instagram is a business and they definitely want to make as much money as they can from you. Their algorithm is their most important tool, and will work mostly to their advantage. So if you do not know how to work the algorithm to your favour. You will lose a lot of money and pay them.

BUT! 
Sometimes the Instagram algorithm automatic recommendation can be used. But only and only if your page is clean and your audience is your actual market. Because automatic recommendation involves the algorithm studying your page, followers, likes, saves, comments etc... 
And then it sends your ads to an audience that is similar to the results it has obtained.

So my brother or my sister. Most of your pages are usually mostly not clean, especially because Nigeria's data in itself is not clean. So again 𝗡𝗘𝗩𝗘𝗥 𝗙𝗢𝗟𝗟𝗢𝗪 𝗜𝗡𝗦𝗧𝗔𝗚𝗥𝗔𝗠'𝗦 𝗥𝗘𝗖𝗢𝗠𝗠𝗘𝗡𝗗𝗔𝗧𝗜𝗢𝗡!

Back to our STEP 6: SELECTING YOUR TARGET AUDIENCE

Option 2…

𝗛𝗼𝘄 𝘁𝗼 '𝗰𝗼𝗿𝗿𝗲𝗰𝘁𝗹𝘆' 𝗰𝗿𝗲𝗮𝘁𝗲 𝗮 𝘁𝗮𝗿𝗴𝗲𝘁𝗲𝗱 𝗮𝘂𝗱𝗶𝗲𝗻𝗰𝗲 𝗼𝗻 𝗜𝗻𝘀𝘁𝗮𝗴𝗿𝗮𝗺. As you can clearly see from the picture,Instagram is asking you to input your targeting options. So basically, she is asking you to tell her about the characteristics and features of the people you want to reach.
---
Read also : How to create an advert that works for your business.
---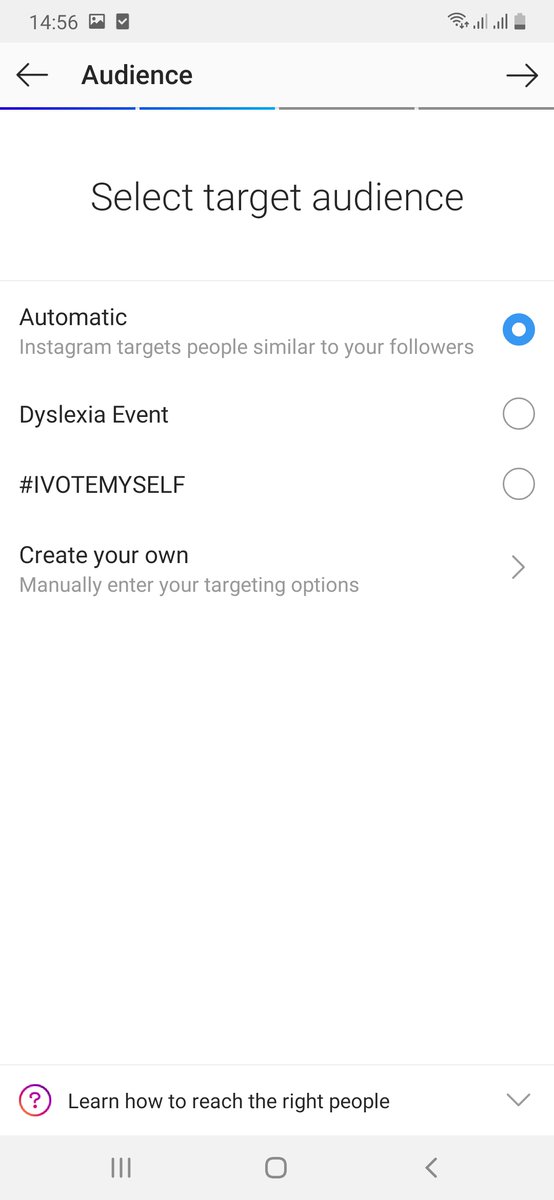 TIP 16: ALWAYS DO MORE THAN ENOUGH RESEARCH.

Before you enter into Instagram marketing, or particularly before doing audience targeting. Make sure you know everything there is to know about your target market. so that you can locate that audience on Instagram.
It is impossible to target people you know nothing about, how do you describe a person to another person, when you do not know what he or she looks like.
Lets now describe our audience by utilising demographies.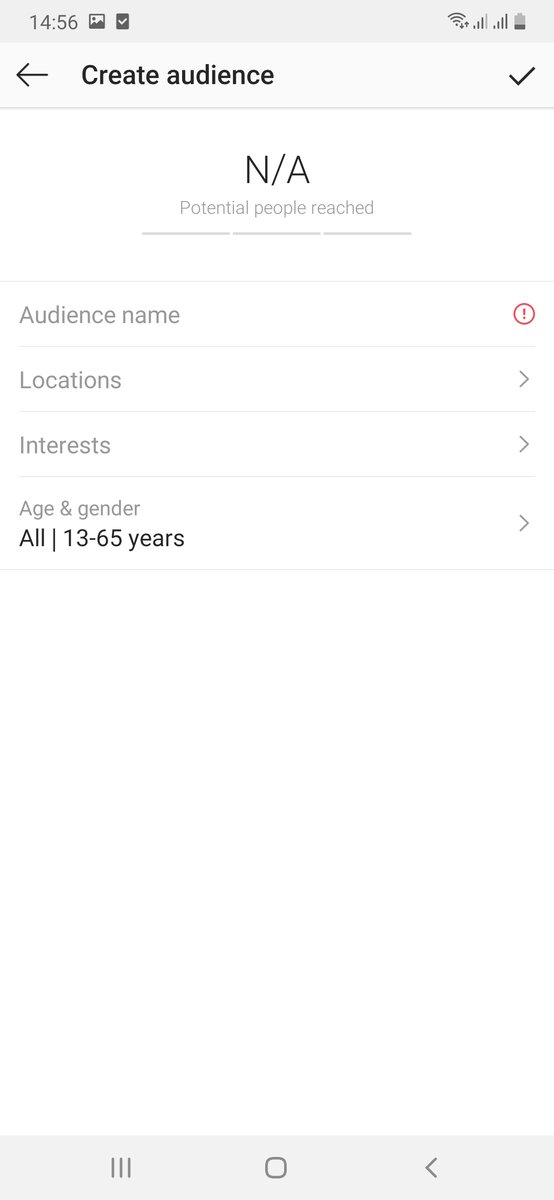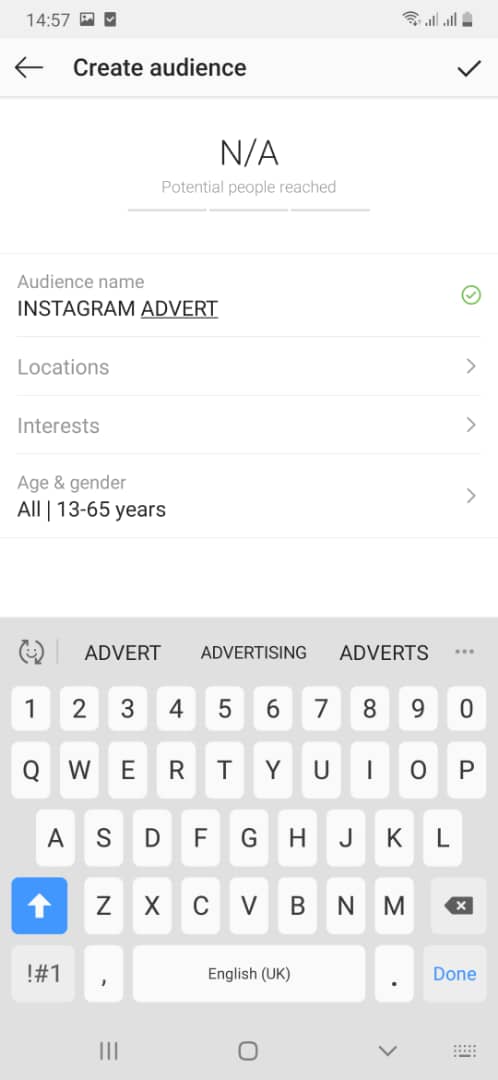 TIP 17: ALWAYS NAME YOUR AUDIENCES 'SENSIBLY'.

When you are creating audiences, especially from directly from Instagram. It is important to name these audiences so that it is a lot easier to track your ad success in that audience. 
---
Read also : 12 Amazing Tips To Grow Instagram/Twitter Followers.
---
TIP 18: CREATE GOOGLE DOCS, AND STORE AD DATA THERE.

Be professional about your advertising nothing ever works till you test it out. In Instagram advertising, we must always test every variable, and the reason why we test is so we can optimise! And the only way to optimise is to use data from your tests. Yes, Facebook stores a lot for you.But there are some things she doesn't do for you and you need every single detail to be able to optimise successfully, so write things down and store it in your google docs. 
Wow. This is getting really long.But I hope you are following. 
The first thing you see on this page is the number of potential people your advert can reach. This simply means the number of people who will receive the advert on their home pages or explore pages...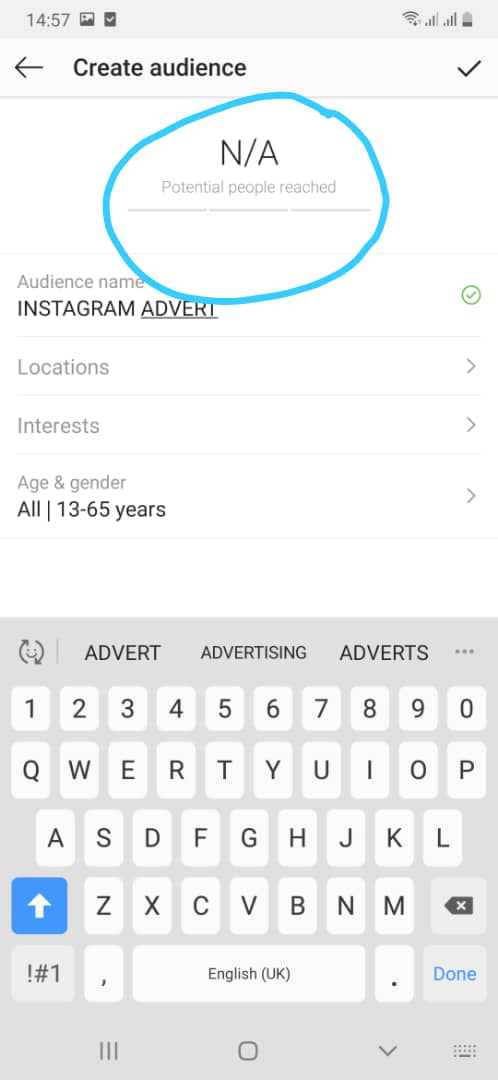 The number increases as you input your targeting variables. The next thing you see and the first thing you have to do is name your Instagram advert.

TIP 19: Use a name that relates to what you may be testing age, interest or location.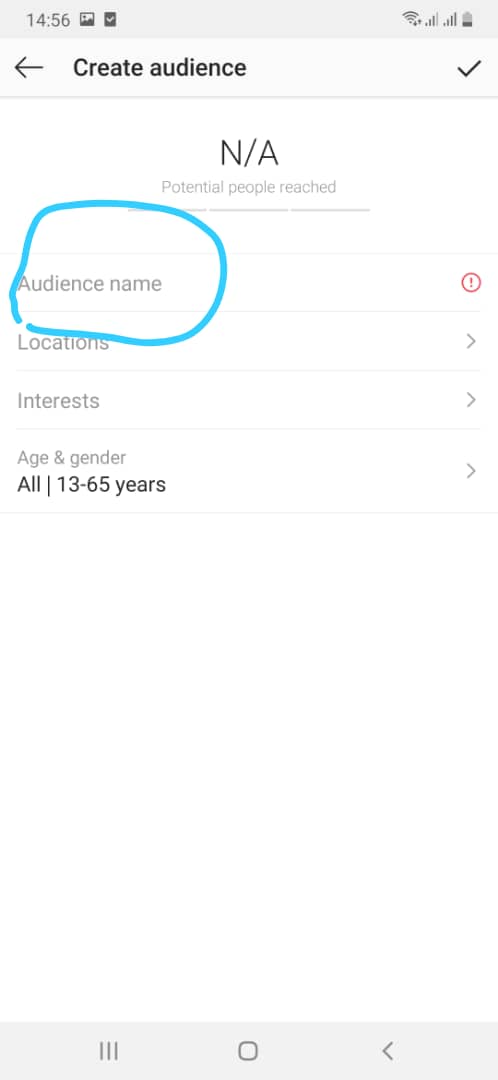 The second part of audience targeting has to do with the location where you would like to send your ads to. CLICK ON THE LOCATIONS SECTION.You can send your ads anywhere in the WORLD. Anywhere in Nigeria. Anywhere in Lagos. And even some specific places within states..

.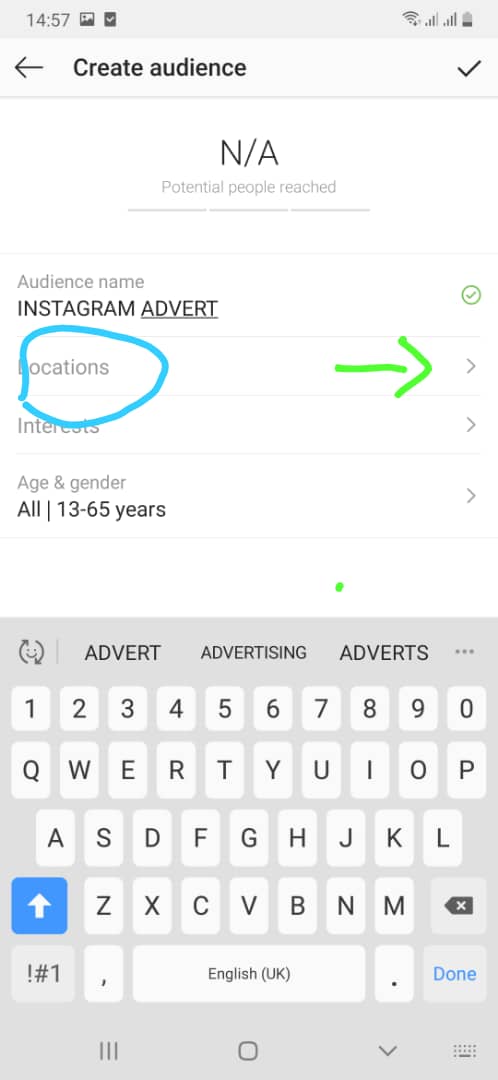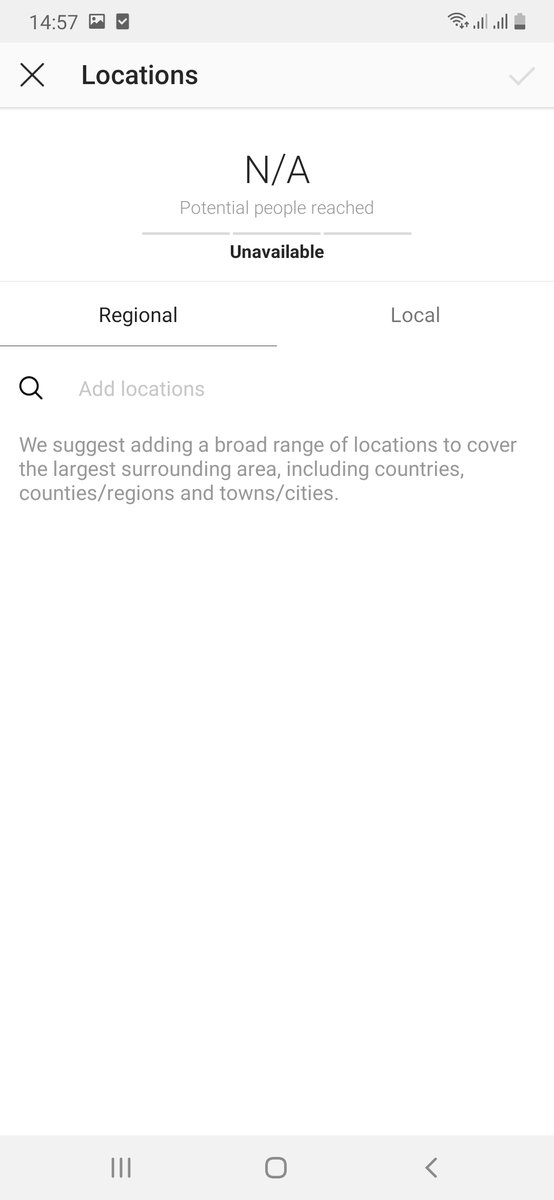 ---
Read also : How to use Instagram insight to grow Instagram business page .
---
---
Read also : How to research Instagram hashtags and types of hashtags .
---
---
Read also : How To Run A Profitable Facebook Ads Campaign In 2020.
---
---
Read also : How to add links on Instagram posts and stories.
---
---
Read also : 7 reasons why you should market on instagram.
---
---
Read also : How to Use Giveaways To drive Sales In Any Business.
---
TIP 19: Before selecting a location try to have an either of where your audience is where more people are most likely to buy your products. Use Nairaland, Use Facebook Insights and Analytics, Use your competitors, Use Jiji, Ask around. All these platforms are key in helping you get information.
But more importantly, test this information out by running some adverts on them. Create variables. Once it works then capitalise on it! 
TIP 20: Never be 'FOOLISH' enough to target the entire Nigeria. what is your problem 😅. Always target specific states, in fact, if you can target specific locations within states. But the algorithm does not usually allow you to be that free. 
TIP 21: When you are targeting locations or Instagram direct advertising. The algorithm sends the ads not only to people who are living in that location. But also to people who have visited that location. 
TIP 22: Some locations I know work well are LAGOS, ABUJA, PH, DELTA KANO etc. To be honest, it depends on what your business is and what you are selling. But ABUJA and LAGOS are money makers! 
TIP 23: When you are inputting a location, always check to make sure that you have typed and selected the actual place you have in mind. Some places have repetitions. So don't go and target LAgos Portugal thinking you are targeting people in Nigeria. LOL.You will lose 'BIG' money.

Alright... Back to how to target people in locations...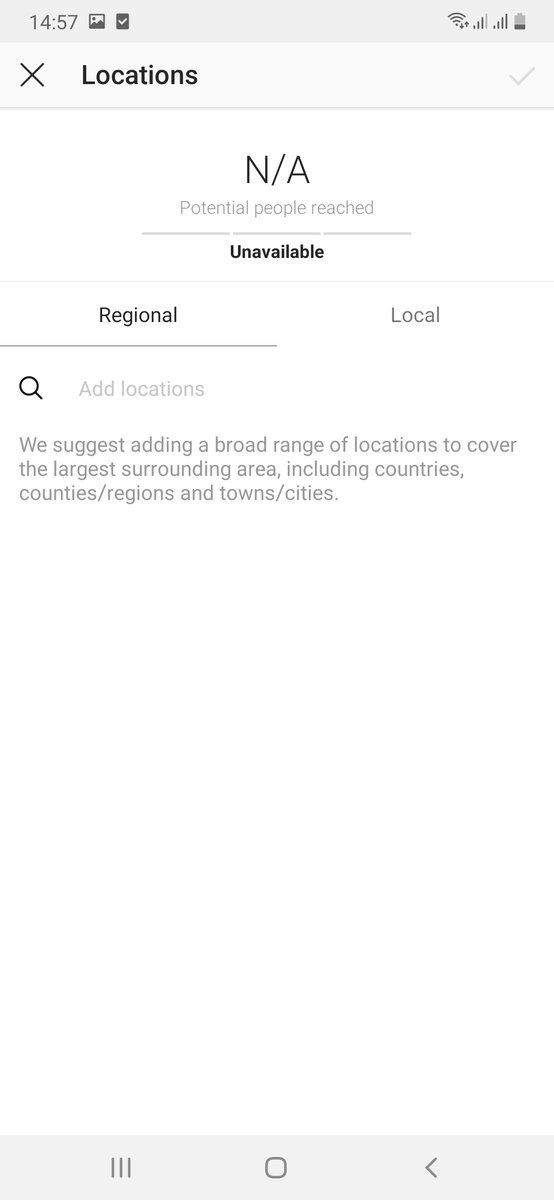 When you click on the locations section. You will find two options, Regional and Local. Regional allows you to type in the names of the location and then local allows you to target people based on their proximity to you on the map. It should look like this...
TIP 24: Notice!! There is a Kano in DRC (Congo)... so you really need to be careful when inputing the locations you have in mind.

TIP 25: I haven't tried to use the local option, it might be interesting.so yes feel free to test it out but make sure that as you increase the proximity, you are checking that your total number of reach is also increasing. I recommend this for people living in very exposed areas in Nigeria. Again use Facebook analytics to find out where there are crowds of users.

So back to the section. All you need to do here is to enter the name of the location you have in mind. I have entered some locations here. Try it out yourself too.

When you are done, press the done button and the platform will return you to the targeting home page.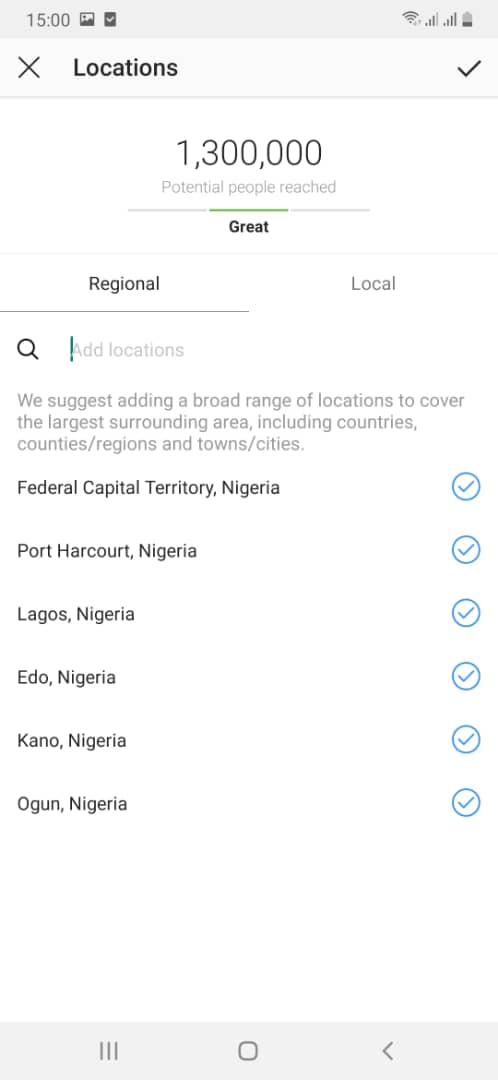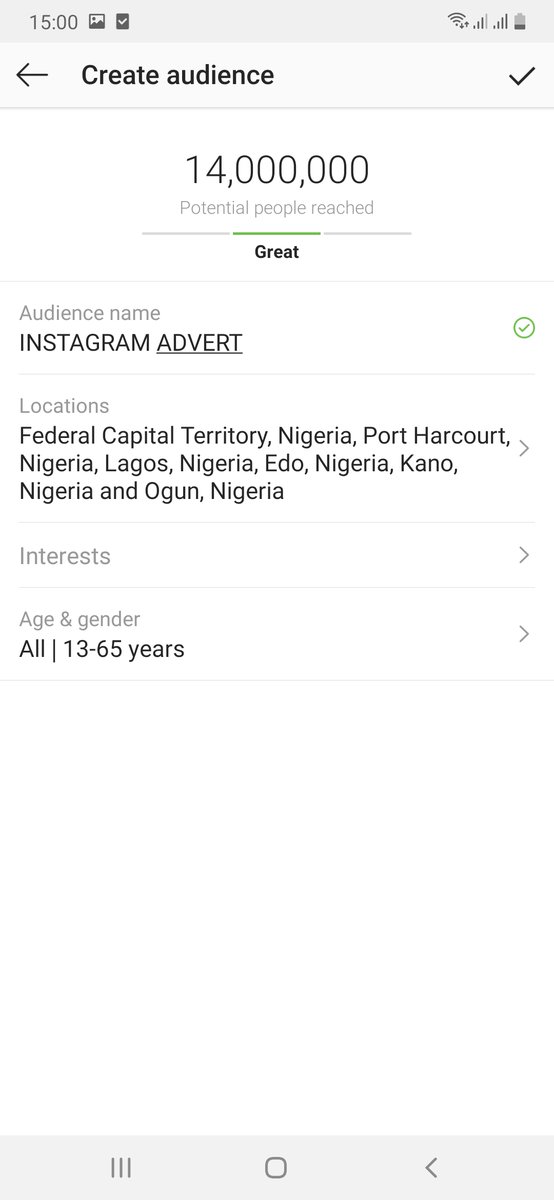 So after entering my location. You can now see that my potential reach has now become 14 Million people.

TIP 26: The fact that you are seeing 14 Million people does not mean that 14 Million people will see your ads. The platform shows you the total number of people that match your targeting specification and variables people that are on their platform. But guess what not you to half of these people are active. Because research shows that there are only. 6 - 7 Million active users in Nigeria..So be smart and wise...🐒🐒.
Now to the third step in targeting Interest based targeting. All you need to do here is enter the interests of your target market here. For example look at my second picture.
My target audience are people who run business and want to do Instagram adverts. You can carefully review all the interests I have put in there.

TIP 27: Interest is just a big word to be honest. Just think about it this way: Who is your audience? What does he or she wear? (Brand Names).Where do they go for fun? What do they like to eat? What movies do they watch? Where do they visit? What games do they play? What do they do? What do they sell? Where do they work? What tools do they use? Create more questions and then use research to answer all of them! 
TIP 28: A good way to find people that have money in Nigeria is to target popular brands, tourist locations, luxury phones, Netflix.... etc. Those people have money... LOL! See all the information I am giving you for free LOL! 
TIP 29: When typing your interest again monitor your reach, it is important to include as many variables as possible. So that your ad can deliver to as many people as possible. Instagram will always use all of your money. There are no bids or cost per click on here... 
TIP 30: Again people are inactive. So the more interests you input is the more 'ACTIVE' people you can reach out to. You can view my targeting variables.

TIP 31: After you are done entering the interests. SAVE IT by clicking done, so you don't have to start all over again, this is why I have also said you should save every detail on google docs. That way life will be easier if you make a mistake.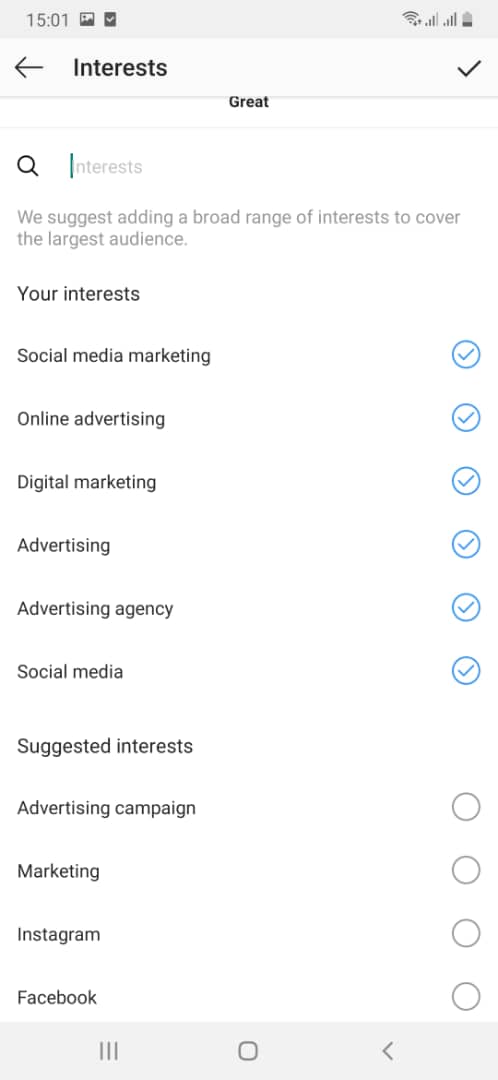 The final part about audience targeting is the GENDER AND AGE DEMOGRAPHY.

.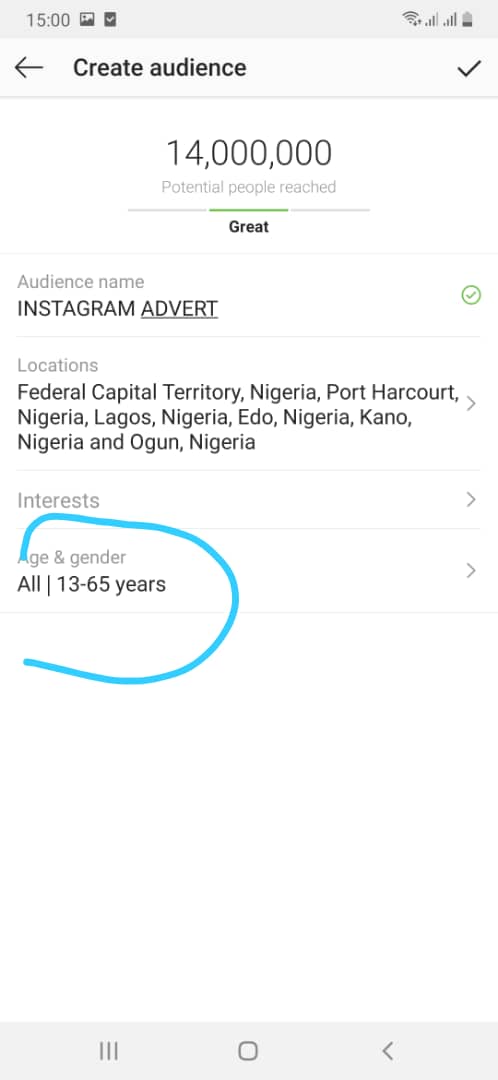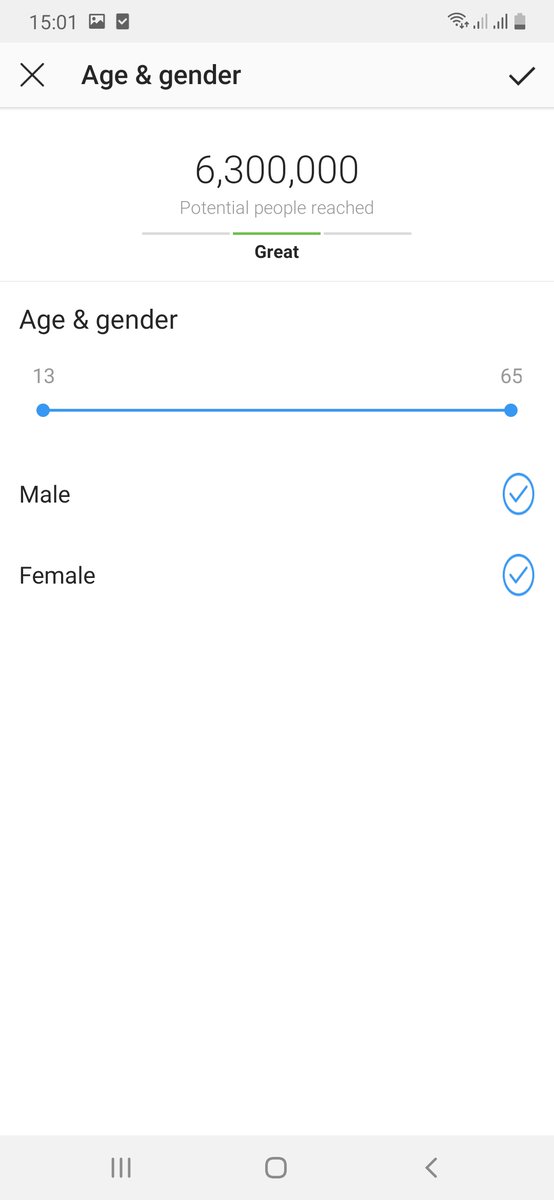 This section is pretty straight forward.For gender, all you need to do is click either male or female or both.

TIP 32: Know your audience, test your information then capitalise on that information.One of my businesses focuses on only the male gender. Not because females don't buy it. But because from my data. Out of every 10 orders at least 9 are male. So it didn't make any sense to continue sending ads to both genders. I would spend less if i sent it to only the male gender. SO KNOW YOUR AUDIENCE AND TEST. 
And Now to age bracket Simply slide both sides of the bar to provide age limits the younger age limit and the older one too.

TIP 33: The only way to truly know the right age bracket for your ads is to do a research and then test. When you test, you will be able to..

.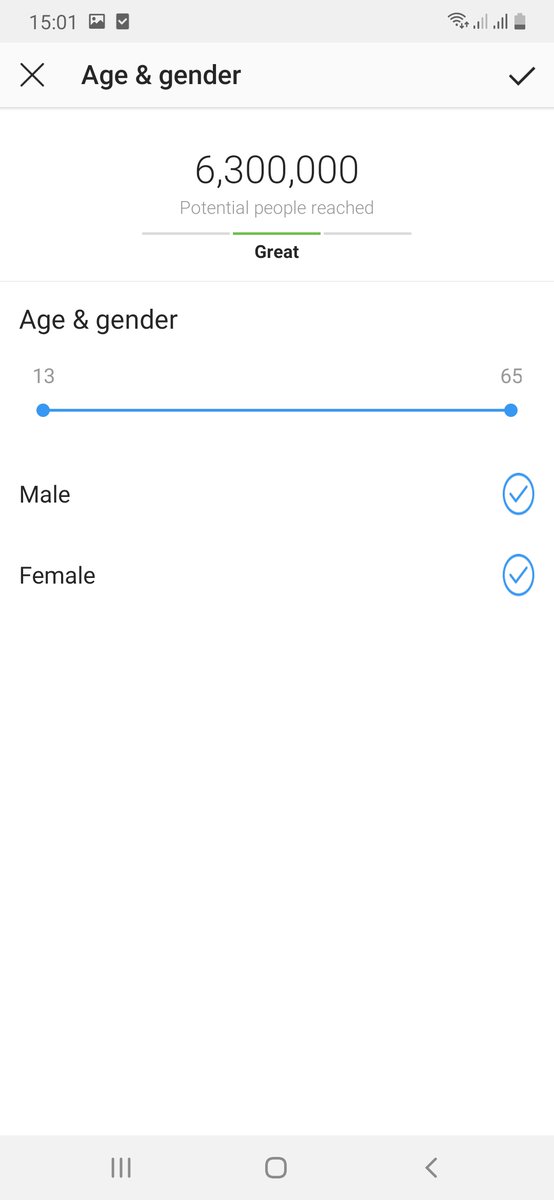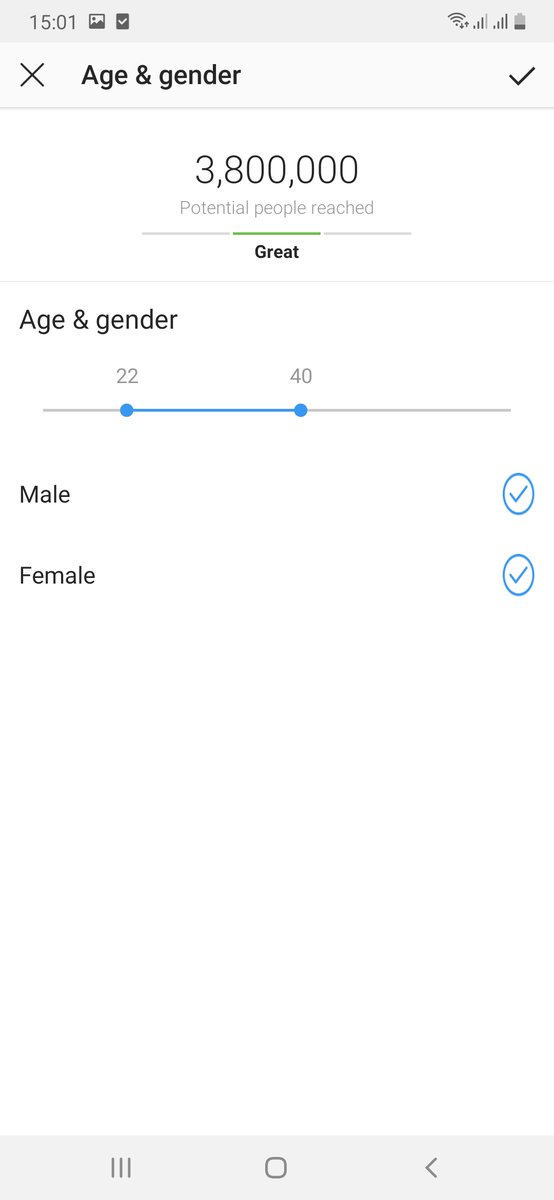 deduce from your promotion insights, the better age bracket to target.

TIP 34: From my experience, I do not advice you target anyone above 40 - 45 on Instagram. Most of those guys are on Facebook but hey, I don't know everything, you test too. Awesome. Now we are done with targeting via Instagram. Here is our total result. DON'T FORGET TO REVIEW AND SAVE (CLICK DONE). And now to the next step.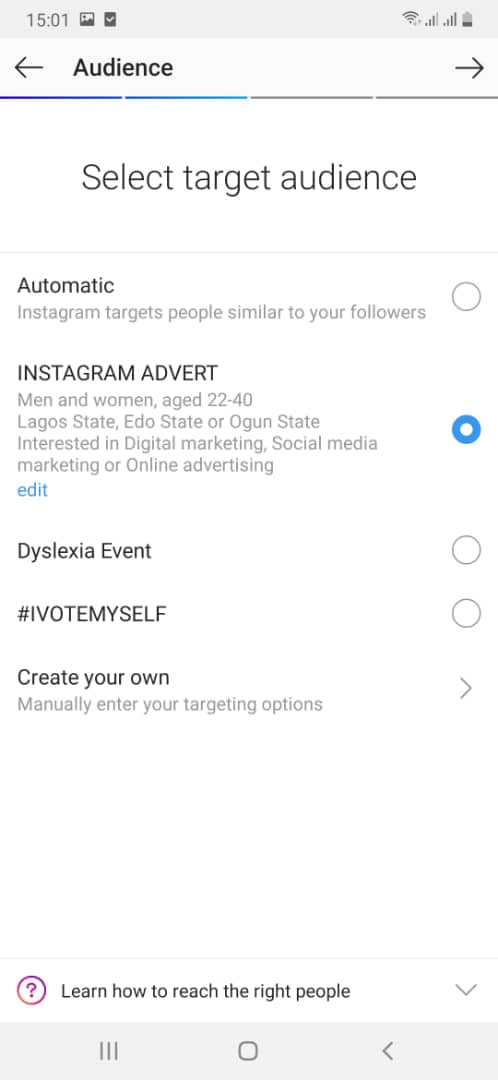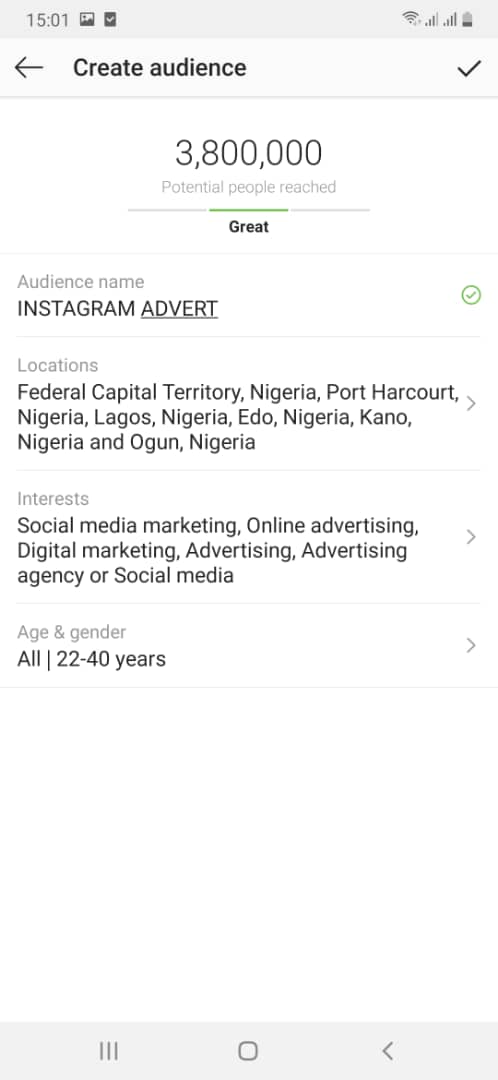 STEP 7: BUDGET AND DURATION.
After reviewing your targeting, the next section is inputing a budget, the amount of money you want to spend daily on the campaign and then inputing a duration, how long you want the campaign to run for.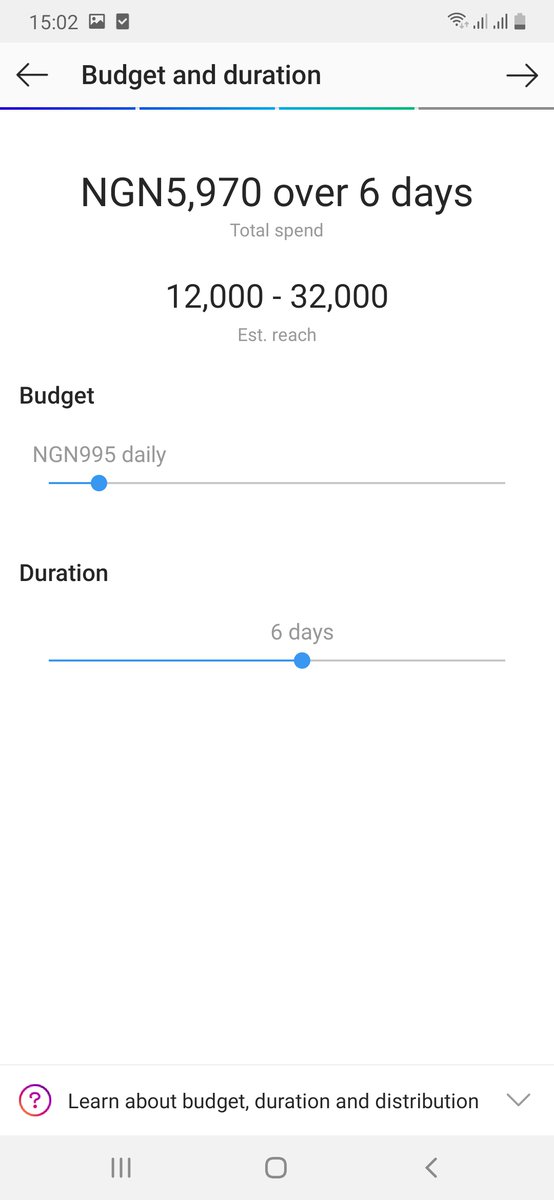 TIP 35: When you are testing an advert, spend between 1000 and 2500 daily and at least run the ad for 5 days. Thats when you can get the best results.

TIP 36: The only time you should ever stop your adverts from running is if there is an obvious failure and no matter what. Give your advert at least 24 Hours before any form of stopping or cancellation.

TIP 37: The more money you spend is the more people you will reach notice that, our reach has now changed from 3.8 Million people to 12000 - 34000 people...
The more you spend is the more people you will reach.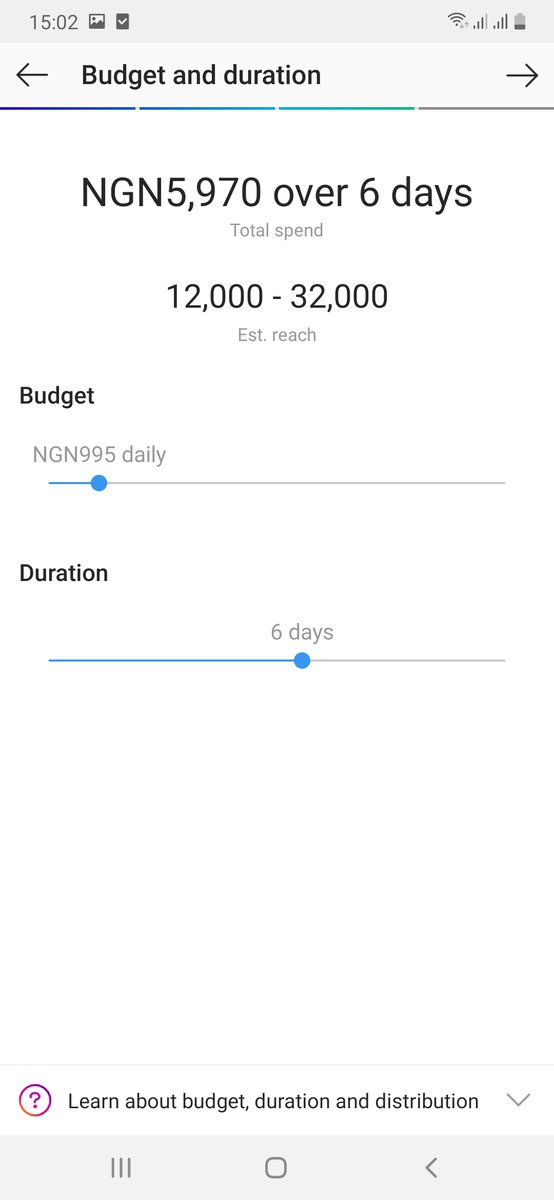 TIP 38: Don't be too eager to spend more money, run the test and review your analytics. Don't just carelessly increase your budget blindly thinking that you will reach more people. I have lost a lot of money that way! And that completes the budget and duration section.

After clicking done. The next step is to review the entire advert.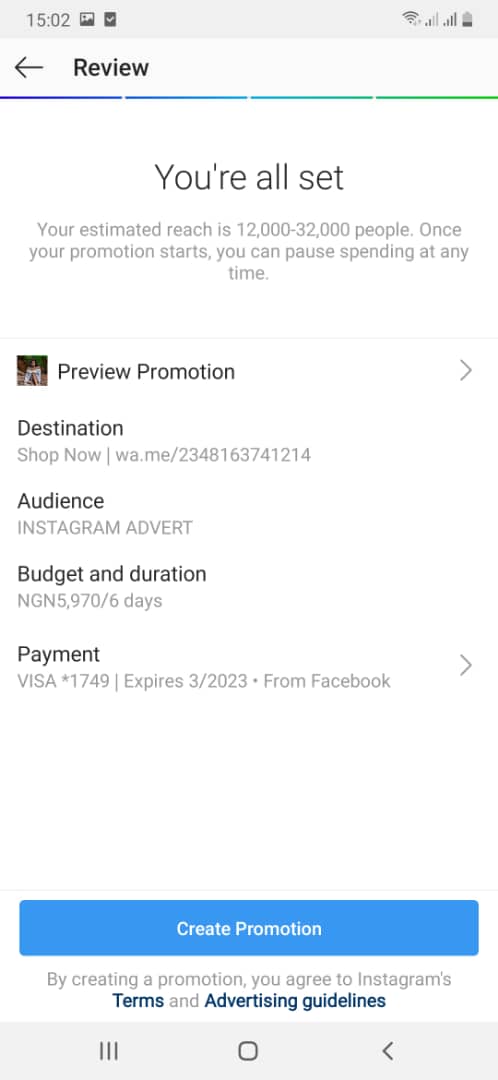 STEP 8: REVIEW YOUR ADSET.
It is crucial to look through your promotion or ad and make sure all is well and okay with it. The first button you see is 'Preview Promotion'.Click this button to view the promotion.

Instagram will deliver your ads in 3 places.
1. Posts
2. Stories
3. Explore Pages... 
So click a preview to see how it looks on all the placements.

TIP 39: Your ads must have headlines, creatives and the body of text. So when previewing your ad. Look at it from the place of the customer. Does it look convincing at first glance? Is your headline showing clearly enough? LOOK THROUGH WELL.
STEP 9: CREATE YOUR AD.
After you are satisfied with the preview, then click 'Create promotion'. And you are all set!😎✌️✌️ Instagram will accept your adverts into review. They will investigate your ads and decide if it complies with their community regulations. This may take some minutes or even hours. It's their platform, so give them time.
And now to the final step.
STEP 10: MONITORING YOUR ADS.
There are two places from which you can monitor an advert,

1. From Instagram
2. From Your Ads Manager

To monitor it from Instagram all you need is to click the 'view promotion' button under your post. And to do it from ads manager.that is the app. Open your app and click on the promotion. And that's all.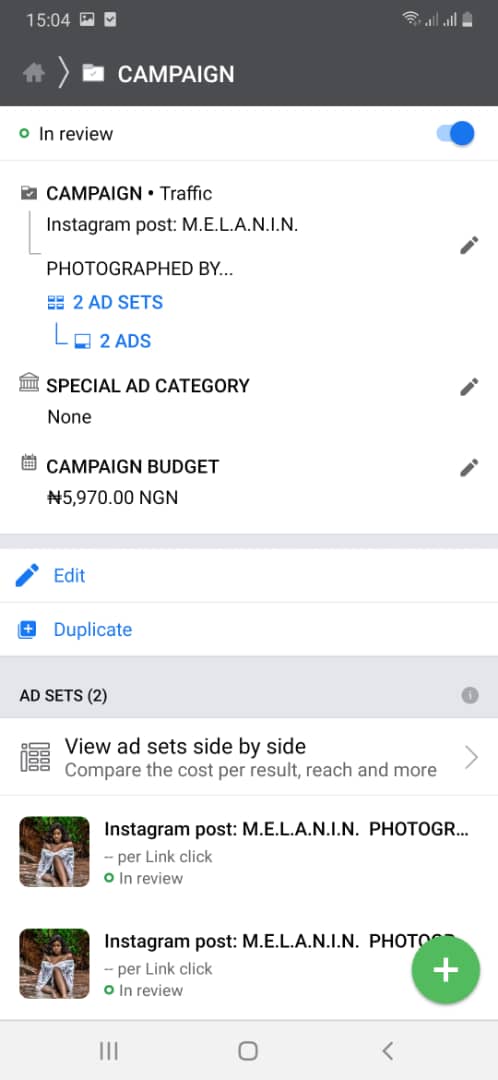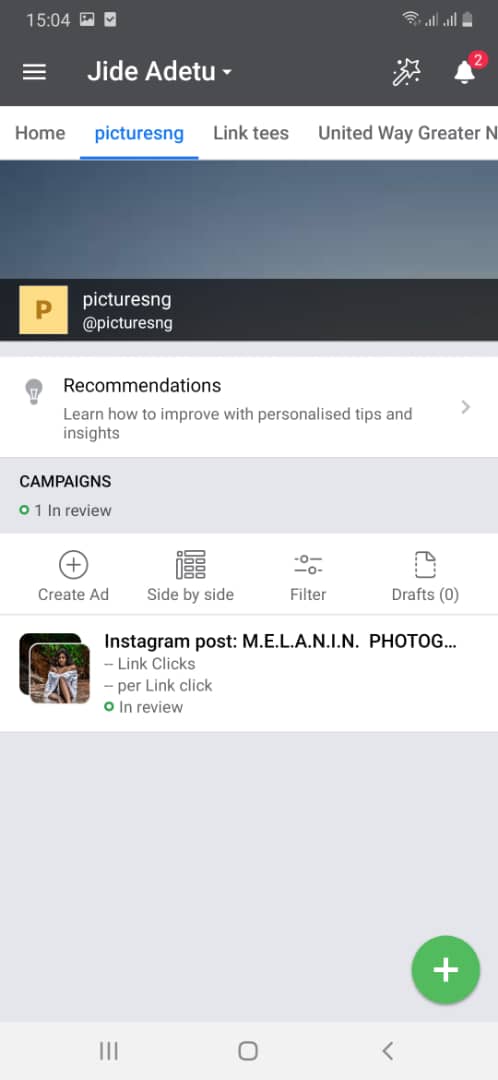 TIP 40: You have to spend money to make money don't be one of those people, who want to make money. But don't want to make any investments towards it.. Ads are great, TRULY they are. I have made a lot of money from it. Don't let anyone deceive you for any reason!

I hope this article has been useful to you. Thank you for your time. I am truly grateful.

THE END! 🐒✌️ 
Updated on 12:42-pm May 31, 2023