Good morning,
Does the United States have the HND or its equivalent? If no, do American universities accept HND graduates from Nigeria and elsewhere for graduate studies without requiring them to take remedial courses? Or do American universities also look down on HNDs like Nigerian and British universities do?

The straightforward answer, which derives from my personal experience with the American university system, is that the HND is treated almost exactly like a bachelor's degree here. I know of many Nigerian and Canadian HND graduates who have been admitted to the master's degree (and later PhD) programs of many American universities without undergoing remedial postgraduate diploma courses. (In any case, American universities don't offer postgraduate diplomas).

I want to tell you how you can get admitted into a MS or PhD program in the USA with a Nigerian HND or its equivalent. Also, If you finished your BSc with a Low GPA (< 3.0 on a 4.0 scale, for example), you might still have a chance at your choice program.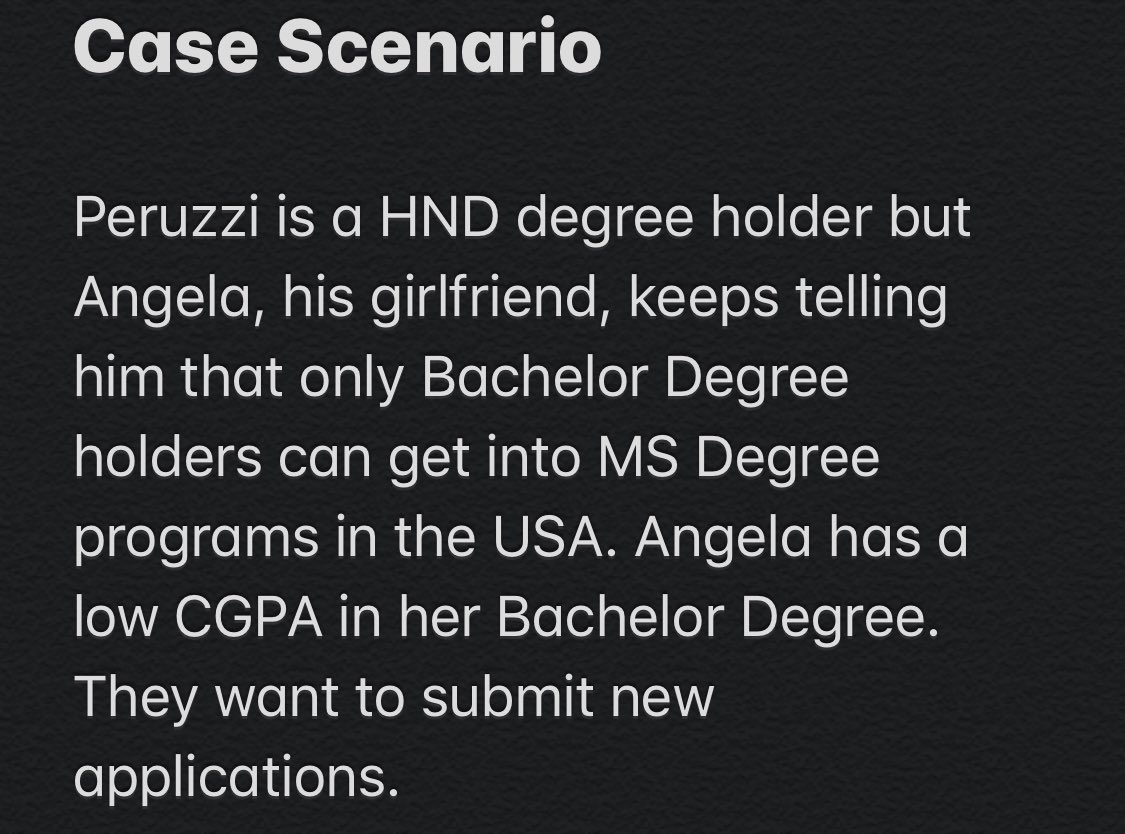 With what I am going to explain to you, be rest assured that you are not going to do anything out of the ordinary. Information is power and with this, you are going to be fine. You may not need to worry about your low grade. With your HND, you may just be on your way to USA. 
The closest and most recent Nigerian HND graduate I know of who is pursuing a master's degree at a U.S. university as of the time writing this column is a man who graduated from the Institute of Management and Technology, Enugu,with an HND in mass communication. He is, incidentally, studying for his master's degree in communication at the University of Louisiana—my alma mater.

I once narrated the story of an HND graduate from Canada whose qualification was mistaken for a master's degree at the University of New Orleans. This confusion arose, perhaps, because in American English "diploma" is the generic word for a document certifying the successful completion of any course of study. It's equivalent to what we call "certificate" in British and Nigerian English. (Even the document certifying the completion of the PhD is called a "diploma" here).

Given that background, it's easy to understand how a "higher diploma" would be mistaken for an advanced degree. But that's not the only reason why HNDs are not discriminated against in American universities. There are at least four other reasons.

First off, let it be known that the American university system has no concept of the HND. Institutions of higher education here just award associate, bachelor's, master's and PhD degrees. Associate degrees are awarded only by "community colleges" after two years of study. They are, in some sense, equivalent to our Ordinary National Diploma (OND) or, perhaps, British and Nigerian "A" levels.

Universities and colleges award bachelor's, master's, and PhD degrees. Although the word "college" is the generic term for what we would recognize as "university" in Nigeria (Americans describe people as "college-educated" if they have at least a bachelor's degree) schools designated as "colleges," for the most part, only award bachelor's degrees.

Now, it is also usual for American colleges and universities to have the word "polytechnic" in their names even though they bear no resemblance whatsoever with the British and Nigerian concept of polytechnic. For example, 15 miles north of Atlanta, there is a school called the Southern Polytechnic State University, which awards bachelor's and master's degrees in technical and vocational fields, the humanities, the social sciences and the sciences.

Other popular American universities with "polytechnic" in their names are, the Virginia Polytechnic Institute and State University (often just called Virginia Tech), Rensselaer Polytechnic Institute (where Dr. Gabriel Oyibo of GAGUT infamy teaches), California State Polytechnic University, etc.

So when somebody comes to America with a qualification from a "polytechnic," it's likely to be regarded as the equivalent of a university degree since universities in America, as you have seen, can also be known as "polytechnics." That's probably the second reason why HNDs from Nigerian polytechnics and elsewhere are not discriminated against here.

The third possible reason why HNDs are not discriminated against by many U.S. universities is because the qualification is awarded after four years of post-secondary education. When you add to this the fact that these "higher diplomas" are given by "polytechnics" (a name often associated with universities here) it's easy to understand why HNDs are easily accepted as the equivalent of a bachelor's degree.

Now, compare this with the experience of Indians whose bachelor's degrees from universities are never accepted as the equivalent of a U.S. bachelor's degree precisely because it takes only three years to get a bachelor's degree in the social sciences and humanities in India. An Indian master's degree is accepted as the equivalent of a U.S. bachelor's degree. That's why every Indian here has a master's degree.

Lastly, as I once mentioned on this page,admission to graduate schools in U.S. universities is often the result of a multi-faceted process. The most important of this process, however, is getting an acceptable score in the Graduate Records Examination (GRE). So even if you have an HND but received very high scores in the GRE you have a greater chance to get into graduate programs in U.S. universities than someone with a first-class degree from a university but with low GRE scores.

In the UK from where we inherited the tradition of HNDs, polytechnics have been discontinued since 1992. They have all transmuted into universities both in name and curriculum. As you would expect, HND holders still face discrimination in UK universities. In other words, U.S. universities are more welcoming to HND graduates than UK universities are.
This is what you are simply going to do. You are going to consider re-evaluating your HND or/and Bachelor of Science degree via an education service.

You are going to submit your current HND or BSc Transcript to a reputable and accepted organization for a credential evaluation. According to @usnews, "a credential evaluation is a report that provides a comparison of a student's academic credentials earned in another country to the U.S.A. educational system".
---
Read also : Nigerian Export-Import Bank (NEXIM) loan worth at least ₦10million.
---
See it like this: After the evaluation, you are basically applying to USA schools with the Bachelor Degree equivalent of your HND, in form of the "evaluation report". This eliminates the dichotomy. Let me stress that you SHOULD contact the school prior to determine if they accept credential evaluation reports, and which organization's report they prefer. 
Speaking of organizations that offer this service, most commonly used evaluators in the United States include International Education Research Foundation, Inc. (IERF), Academic Evaluation Services (AES), World Education Service (WES), Educational Credential Evaluators, (ECE).  For a detailed expose on Choosing a Credential Evaluation Service, see: Choosing a Credential Evaluation Service | Study in the USA

Remember to contact the school (via an email to the Graduate School) prior to choosing the service and starting the evaluating process at your end. 
Now, let us consider the process in layman terms. I will discuss intently using one of the organizations as a case study. I am going to be exploring the process and service provided by @WESPicks @WESAdvisor. They are one of the major highly reputable organizations utilized for credential evaluation: WES credential evaluation. Before, I move into the Course Evaluation process in-depth, please consider two talking points below.
1. You should do a "Course-By-Course Evaluation" instead of a "Document by Document Evaluation"
See at as all your courses done being paired with same offered in USA schools.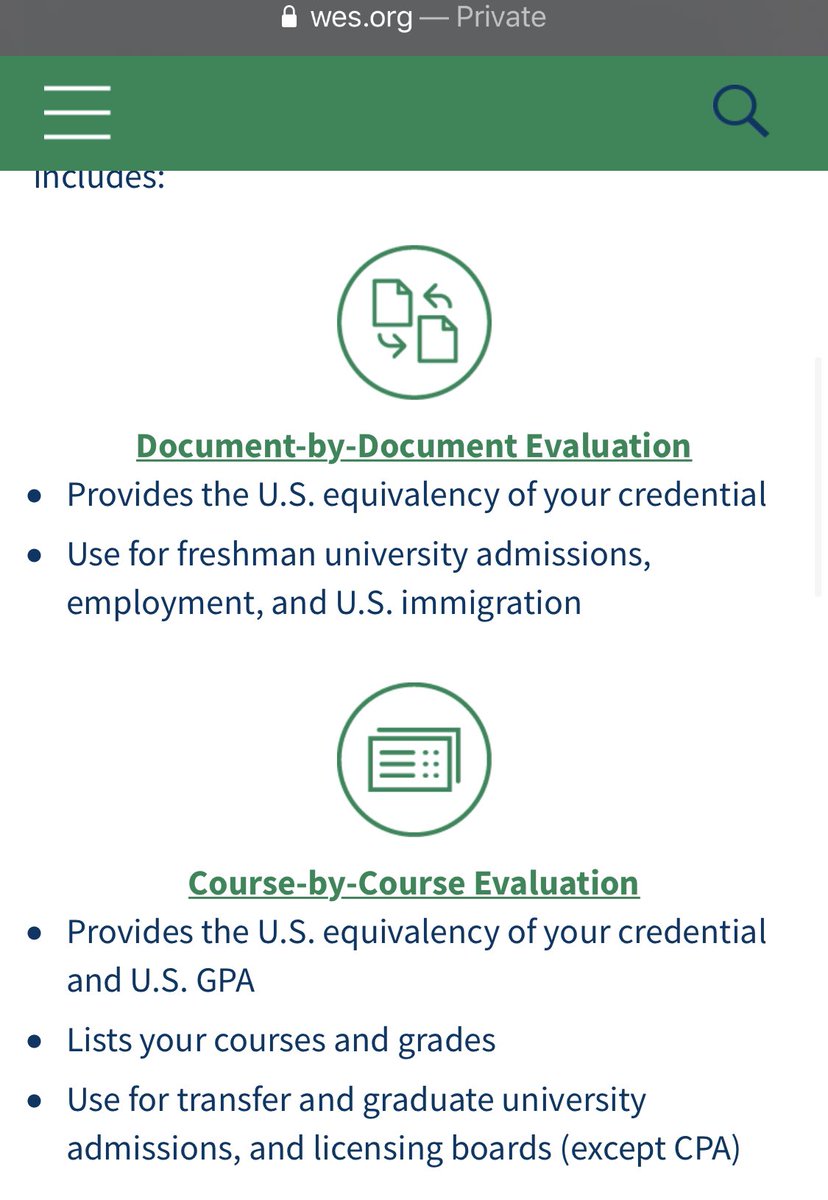 Remember all those external department courses you took back in the days (that probably reduced your CGPA)? There are cases where they are ignored in the course evaluation (because they are not offered in your program in the USA). This can lead to an INCREASE in your Final CGPA. This is where people (HND/BSc holders) with low GPA can get a much desired increase. In summary, the GPA of your course evaluation report may be HIGHER than what you currently have.

These testimonies have previously been recorded. See: What Is The Hnd Equivalent In Usa  
---
Read also : Federal Government loan for businesses.
---
For example:
CGPA from your School: 3.46/5.00
CGPA from WES: 3.90/5.00 😁

2. Most USA schools require a First Degree GPA of at least 3.0 (on a 4.0 scale).
If your degree was on a 5.0, 6.0 or 7.0 scales, you may convert them using the service below: WES iGPA Calculator . Now let's talk about the evaluation process
- Cost (Fee Required)
- Step-by-Step Process

I will be using the @WESPicks platform to illustrate this. Stay with me. 
The First Step is to visit Evaluations and Fees - Graduate Admissions

Here, you should select Education > Graduate Admissions. Typically, at WESPicks, Your evaluation will be completed in seven (7) business days after receipt, review, and approval of all documents, and payment in full. You will need to send A Copy of your Transcript from your University/Polytechnic to WES!
Here is what a Sample Evaluation report look like: WES credential and authentication report
FEES 💳💰💵

The recommended WES ICAP evaluation costs USD 205. Each additional duplicate report costs at least $30.
---
Read also : Apply for MTN foundation scholarship for Blind students and Science and Technology students.
---
After the evaluation, send it to your proposed school as part of your admission documents. You are good to go.
Updated on 2:39-pm June 1, 2023