How to request for graduate school application fee waivers
Good Morning,

Are "High" Application Fees preventing you from applying to MS and PhD programs in the USA?

🗣 Let us talk about Graduate School Application Fee Waivers 💵

- How much are these fees?
- How to know if a school offers fee waivers?
- How to request for It?

Thread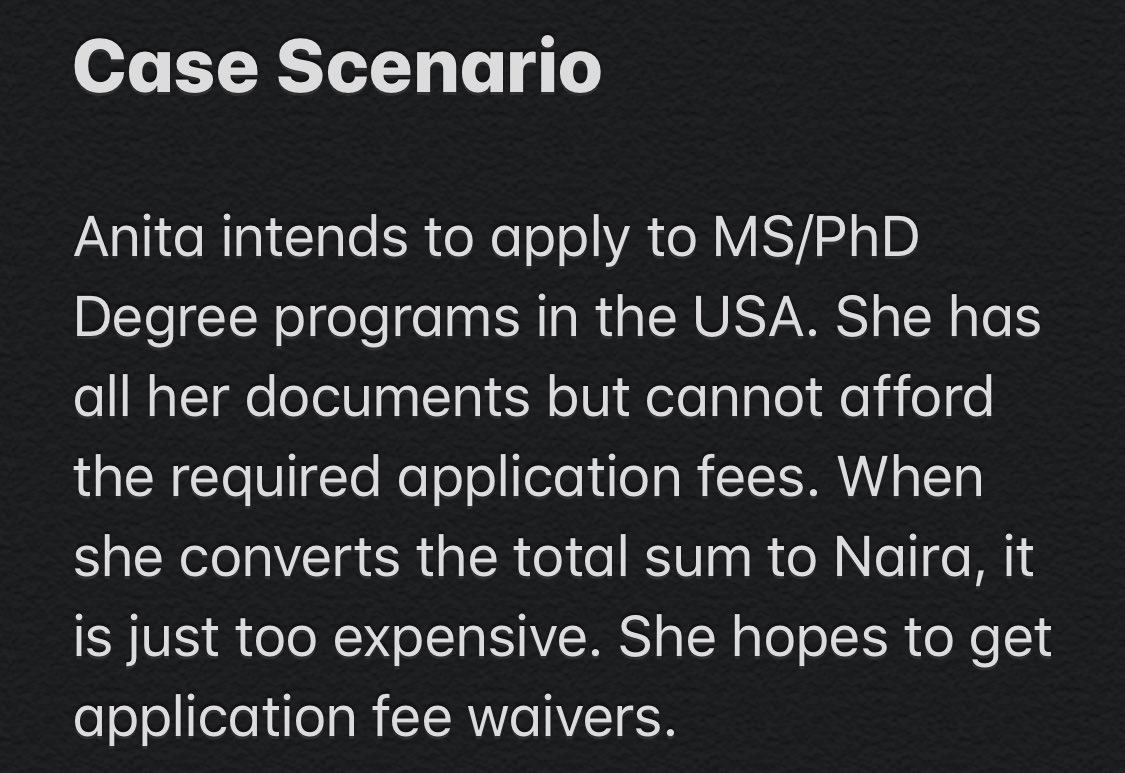 The application fee is a sum of money the prospective student is required to pay when submitting the Graduate School Application. In this case, it is usually in US Dollars, and can be paid online.

Application fees are typically nonrefundable and must be paid by each applicant. 
For US schools, the fees range between $30 - $105. I do not know why some are more important than others but I can say that the fee is usually $80 on average.

Using $1 = NGN 437, $80, for example, translates to NGN 34,960. Courtesy @abokifx on May 11
Examples of fees for Graduate School include:

1. @UAGradSchool
US Citizens and PR: $65
International: $80

2. @OSUGradSchool
US Citizens and PR: $75
International: $85

3. @AdmissionsUSF
Fees: $30
Some others can be seen  through: Here are a few examples of fees for the 2017-2018 application cycle
Now, that we are past what amount of fees you should expect, let me quickly state that from my discussions with a lot of prospective students, I understand that the fees can be prohibitive.

The good news is that a number of schools offer waivers. If granted, it will help.  You heard me right. There are application waivers thereby allowing you to pay ZERO fees when submitting your graduate school application.

I tried to find a list of schools with application fee waivers but, to the best of my knowledge, there is no such list. Instead, I found lists of universities with No Application Fees required. Let me share three links with you.

1. Complete List: Colleges With No Application Fee (Updated)
---
Read also : Budget estimate for graduate school applications.
---
2. 10 Graduate Schools with No Application Fee

3. 2020 Best Colleges with No Application Fee
Now back to the fee waiver discourse.

The only way to determine if a University offers Application Fee Waivers is to find out details on "Application Fee Waiver" on the Graduate School's website.

You will find this under information available in the "Application Fee" section under "Supporting Documents" on the Graduate Admissions or Graduate School's website.

Alternatively, when you identify a university you are interested in. Go to Google and search for "Application Fee Waiver Graduate School XYZ University" . Although, some of you folks can take it from here but, let me go ahead and treat the following.

- Eligibility for Waivers
- Requesting for a waiver

Stay with me. 
Eligibility for Waivers
Regarding "Eligibility for Waivers", there are a number of grounds See : Eligibility for application Waivers graduate.ua.edu. However, the one I want to talk about (which mirrors the situation of many international student  applicants) is "Financial Hardship" or "Economic Need".
Remember that you should check the school's information so you can determine those who offer waivers that you are eligible for. I did some digging and have shared screenshots of some schools do not currently offering waivers. 
When you find that your proposed school is offering a waiver, follow the instructions to request for one. In most cases, you will have to start your application before requesting for one.

QUICK RULE: Write to the Gradute School and Request for an Application Fee waiver on grounds that you can not afford it.

You are simply telling the truth.

If the school needs an support documentation, please provide it. If you cannot find the Graduate School's email (or no response), request/write the Graduate Program Director of your proposed program. 
---
Read also : How to obtain current information regarding the schools you are targeting.
---
The interesting thing about this kind of requests is that it gets approved more than it is actually reported.

All I ask is that you write the school, and request/apply. I hope your request gets approved.