Good Morning,

Are you talented in Sports (American Football, Soccer, Basketball, Swimming, Track & Field, etc)? If so, I want to tell you how you CAN obtain FULL Athletic Scholarships at USA Colleges and Universities while obtaining your BSc/MS/PhD degrees.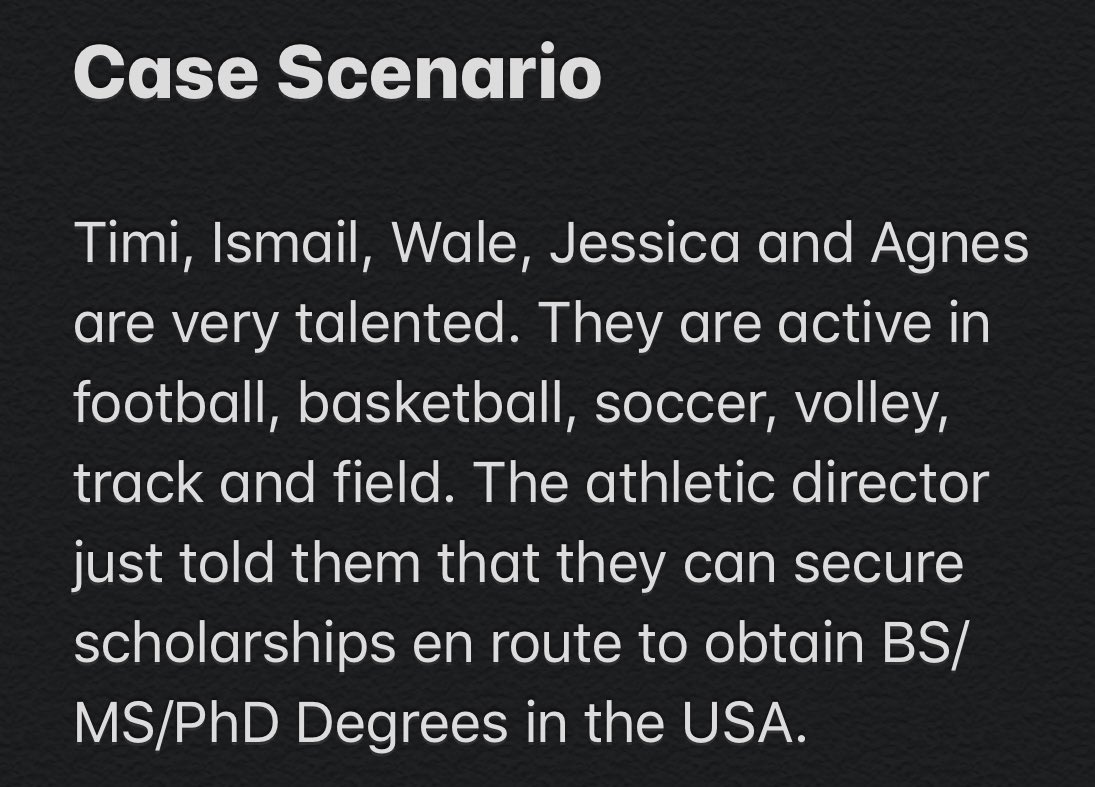 The first thing I want to ask you for is patience. You will not register interest today and travel to the United States of America tomorrow morning. It involves a number of required procedure and documentations. You need to take ample time to research your options and ensure that you pursue the right opportunities that fits you.

Yes, there are "Over one thousand U.S. colleges and universities offer opportunities for talented students to play for the college team as a means of paying for their education". - @educationusa 
Also, "there are over 20,000 international student-athletes enrolled and competing at NCAA schools." - @NCAA

See more here: International Student-Athlete Participation
At your spare time, you can read an educationUSA exposé on Athletic Scholarships. See: Athletic Scholarships. For now, I will try to break the information down (with other sources) so you do not get confused.

Take a deep breath. Stay with me. 
Primarily, in addition to some other academic documents I will share down the line, you will need three things:

1. A Sports CV, Bio or Resume.

2. Videos of your performance in games/events.

3. Reference Letters from your coaches and other mentors.
I have included a video that attempts to provide useful tips on the Sports Resume.
---
Read also : List of fully funded scholarships that you can currently apply for.
---


Now, let us move on to the process. Now, let us look at the process to find the schools and contact the relevant people.

- Please start your search VERY EARLY. Securing an athletic scholarship takes you through a competitive process hence,18 to 24 months prior to the date you plan to enroll is a good start time. 
- Secondly, you need to have graduated from secondary school (also called high school).

- Next, as an international college-bound student-athlete (who wants to play at an NCAA Division I or II school), access country specific information via the following website for steps you need to take toward becoming an NCAA student-athlete.

You need to find your country in the National Collegiate Athletic Association (NCAA) International Standards for Student Athletes.

Access Here: International Student-Athletes
The international guide can be found here: International guide

Since the minimum requirement is your graduation from secondary school, the academic requirements explained below reflect this.
This process, as explained in the international guide, requires you to prove/submit documents demonstrating eligibility via the @NCAA Eligibility Center. For Initial-Eligibility Steps for International Students, access the link: Initial-Eligibility Steps for International Students
---
Read also : AGIP Undergraduate Tertiary Scholarship Scheme.
---
Some things to note here are that in addition to your academic records, proof of graduation, you will need to write the SAT or ACT exam and submit results. Remember that for more information on your country's acceptable forms of documentation, visit: fs.ncaa.org/Docs/eligibili… 
Now that you know how to determine your eligibility in line with @NCAA standards, let us talk about the individual sports and how to find schools of your choice.

Transfer Portal 👌🏻.

To find a participating school, there is an  NCAASport Listing: Search for a School . If you already have a school in mind, you can just search for the school.

For example, I just searched for The University of Alabama (@UA_Athletics) and here is the result: University of AlabamaNow, that you know how to find individual schools. I know there are a lot so let me help you reverse engineer the process.

Here is a useful free resource which provides dedicated information for each sport:  athletic scholarships recruiting. Please access it now. When you access the website. Go to the bottom of the page, you will see the various sports. Scholarship info are seen as you click each link.

Baseball | Basketball | Bowling | Football | Golf | Track & Field | Soccer | Swimming & Diving | Tennis | Volleyball | Wrestling

NB: I suggest you use this for information purposes only. I am not a party to any recruitment business an an "agent". The idea is that when you have declared eligibility on @NCAA portal, schools will see you.
In order to land that college athletic scholarship, kindly visit @beRecruited via new.berecruited.com, a highly reputed service, for all of your college sports recruiting and athletic scholarship needs.

It's simple and it's free. Having an online sports recruiting profile at @beRecruited is a very good way to connect with college coaches and get your name out there.

"College coaches from the NCAA Division 1, Division 2, Division 3, NAIA and JUCO schools are searching for talented athletes every day and awarding athletic scholarships".

"If you want to connect with college coaches it is important to have a college recruiting profile so that coaches can view you and evaluate your abilities". 
I really hope you find a team and join your dream school in the USA.
Goodluck.
---
Read also : 30 scholarships you can apply for in November.
---
Updated on 5:19-pm May 31, 2023