Hello Graduate Admission Seekers,

Are you planning to apply to a University in the USA for your MS/PhD Program?

Let us talk about the required "Academic Curriculum Vitae (CV)".

- What is An Academic CV
- Sections of a typical CV
- How To Write One
- Other Tips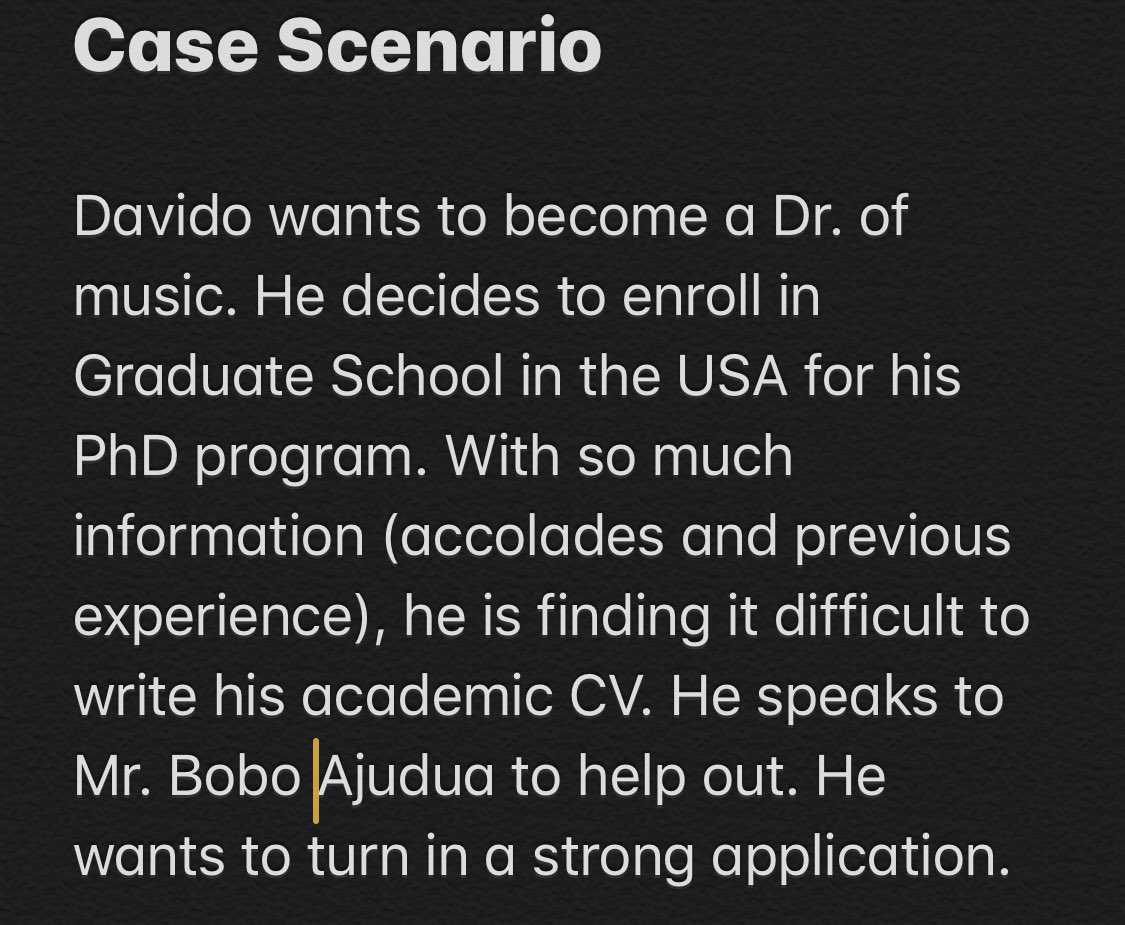 Just to be extra clear about this article, I am going to teach you how to write the academic CV required for your application to graduate schools in the USA.
Some schools tag it as CV/Resume on their websites. Right now that does not matter so much. We will walk through it all. Some people have written an excellent statement of purpose. Their Letters of recommendation are awesome; they even have high GPAs but then the CV is poor. You do not want to be one of those people. I do not want that and this is why I am teaching you this. Now, let us kick off! 
To avoid any ambiguity, let me share the difference between a CV and Resume before explaining the context in which the "Academic CV" is reliably defined.

This should allow you eliminate any form of ambiguity in your minds. You should know what you are writing before you start.
What is An Academic CV
According to Wordvice , both CVs and resumes contain a history of your major activities however, a resume is more heavily focused on professional achievements and work history. A CV, on the other hand, accentuates your academic accomplishments and is a synopsis of your educational and academic background and related information.

In order words:

Resume = brief summary
CV = more detailed

However, in the USA, "CV" and "Resume" are used interchangeably.

P.S: I'll talk about length of the documents in a bit. 
One Quick Personal Rule: Before you start writing a CV or a Resume for your Graduate School Application or a Job, take some time to jot down all your educational info, work experience, skills. achievements, accolades and every information. The catch is that it is wise for you to include ONLY what is necessary.

"Necessary" in this case defines a number of information that is relevant to the "application at hand" following a typical format.

Now, let us focus squarely on graduate school. 
Typically, your CV or Academic Cv or Resume (as mentioned on some schools' websites) MAY NOT be explicitly required as part of your application, I STRONGLY encourage you to upload one.

You NEED to showcase your history and accomplishments clearly.

See: should students include a resume in their college application? 
---
Read also : Top 10 reasons why a recruiter might have pushed your resume aside and what you can do to avoid it.
---
Now, that we have talked about what an academic CV is and the need for you to provide it, let us jump into the real meat of this conversation.

How LONG should your Academic CV be? What is the typical length of this document? What length should you aim at for Grad School ?
Here is the very clear and true answer: The length required for your application will most likely be provided by your proposed school. They will provide information on their website in the "application materials/supporting documents" section. 
For this, you need to check the Graduate School's or/and department's website very well.

For example, you may find prompts like:

1. "Academic CVs are typically 1-2 page long"

2. "Required Resumes are typically. 1 - 3 pages in length" 
3. "Applicants into our PhD Program are required to submit CV/Resumes which are typically 2 - 3 long"

My clear advice here is that: I want you to follow the prompt by your future school. If YOU ARE SURE there is no prompt then, you can use the recommendation I will provide here. 
An Academic CV is typically 1 - 2 pages. I personally recommend that you should only consider stretching it to 3 pages IF you have a number of important research information (lengthy list of publications, Grants, Professional Presentations) that are CRITICAL to your application. Do not extend your academic CV to the third page if you want to include hobbies and information about your favorite food. That does not count.

Now, that we have covered this, let me share some information an a typical format/sections of an academic CV.
---
Read also : Things to check out before sending out your CV (curriculum vitae) or resume.
---
Sections of a typical CV
Inasmuch as there are critical sections that must appear on your CV, you should decide on the "order of sections" based on your situation. What I mean is that, they way an applicant into a PhD program should organize the CV may be different from how a MS applicant will do theirs. 
I expect the PhD applicant to emphasize on previous research and scholarly articles hence, these should be high in the pecking order. No matter what kind of applicant (MS/PhD) you are, I recommend that your "Education Section" should come first. 
It may come second only if you decide to include an "Objective/Summary/Highlight" section as an overview to your Academic CV.

The Education section is where you provide information on your previous degree(s) or/and current degree program (if you are still enrolled in a school). Lest I forget, your academic CV should contain your Full Name and complete contact information at the top of the page. This precedes (comes before) the Education Section or the Objective (as you will). If you decide to include an objective, it can be something like; Applying for Admission into The University of Alabama's Doctor of Nursing Science Program.

That being said, your education background should contain your previous/current institution, degree, date of graduation or date degree was earned, thesis title (if applicable). 
Typical sections of the Academic Resume include:

- Objective
- Education
- Academic Experience/Highlights
- Research Experience
- Employment
- Volunteer/Community or
- Extracurricular activities
- Certifications/Professional Development
- Leadership/Awards/Recognition 
The list above is not in any particular order. Remember that for a PhD degree, you should have a research experience section where you highlight your works. For an MS applicant, you may want to emphasize your academic achievements over your professional ones.  Mention your work experiences if it is relevant to your future studies and/or shows your work ethic and tenacity, but focus more time and attention on educational experiences.

See more: How to Write a Flawless CV (Curriculum Vitae) for Graduate School 
---
Read also : Things to leave out of your resume.
---
Please REMEMBER that your Academic CV's layout or the way your organize the sections of your CV should be determined by what you plan to what you want to emphasize to the graduate admissions committee.

Ensure that your most important and very relevant experiences are on top while you put the least downstream. The "catch" is that if the committee is pressed for time and can only discuss 2/3rd of your resume, let them see the important things first. Also, your resume will stand out from others if you put your best foot forward. 
Let me quickly add that if you have awards that are relevant to your application e.g, You won a research award hence, you should clearly include this (especially in an application into a PhD program). Also, previous teaching roles can help your case for a Graduate TA role. 

Here is a sample from @PrepScholar: Prepscholar sample academic resume 
For more information on sections in a CV, this is a very useful resource: Graduate school resume 
Here are other samples:

1. Sample Graduate School Resume
2. Sample CV
3. Graduate School Resume/CV - Career Center
---
Read also : Getting a high paying job in Canada.
---
Now, let me share tips regarding formatting.

1. Use bullets instead of writing in paragraphs (but use sparingly).
2. Be consistent with format.
3. Make headers larger than body text.
4. Choose a standard font that is easy to read.

Source: @michiganstateu 
5. Try to stick to 1-2 pages.
6. Leave some "white space."
One-inch margins are standard.

For full discussion on formatting, see: Resume Formatting Essentials 
At this point, I believe you have the general idea. You just need to put in the work.

Try to avoid spelling errors. Also, I encourage you to share your Resume with a third party to proof read on your behalf. Most times, we fail to see the errors in documents we personally write. 
For 5 EXPERT TIPS FOR WRITING A GRAD SCHOOL RESUMÉ from @Northeastern folks, see: How to Write a Grad School Resumé: 5 Tips from Admissions Experts
At this point, I think you have everything you need. I wish you the very best of luck in your graduate school applications. You may want to checkout The @UAGradSchool for your desired programs and scholarships via graduate.ua.edu 
---
Read also : How to start graduate school application.
---

Cheers! 
Updated on 3:06-am May 31, 2023